Discussion Starter
·
#1
·
I saw this answer somewhere but can't for the life of me find it again: what model year or manufacturing date started getting the latest version of the Business CD head that could read mp3s? (Trying to find one on ebay.)
9/04+ models (Business CD) are MP3/WMA compatible.
This is WRONG info! The prodution date has little to do with anything when it comes to buying a quality unit. I spent the last 9 months researching for a new MP3 capable unit for my own car and the information below is what I found out.
Only
two
BMW Business CD53 Radio Parts Number for the E46 cars has MP3 playback (along with Sirius and Aux dual data Datalink inputs.)
Part Number: 65.12-6 943 429
(and it's Remanufactured/Refurbished counterpart CD53 units with Part # 65.12-6 943 430). The BMW Part Number: 65.12-6 943 429 CD53s were plauged with many many many problems and there was even a factory recall of these units at one point of their hectic production lifespan hence why you come across many BMW Part Number: 65.12-6 943 430 CD53s on eBay today. These are Remanufactured/Refurbished versions of the original Part Number: 65.12-6 943 429 Business CD53 Radios even though the sellers of these units won't mention that to you.
AND
Part Number: 65.12-6 961 215
will also give your car MP3 playback ability. These were superior post stock original production units that were made on the last production E46 coupes, convertibles and M3 cars from late 2005 until late 2006/ 2007. If you come across one of these on eBay for under $300 then immediately buy it! These will give you the full capacity and digital function of all the previous CD53 Radios including MP3 playback and it lacks the refurbished and buggy history that the Part Number: 65.12-6 943 429 units come with.
NOTE:
They are lots of sellers that try to bump up the price of their Reman/Refurb
Part Number: 65.12-6 943 430 units because they will tell you it has a late production date like NOV 05 or something like JAN 07 and the quality or newness is better. This is to pretty much scam you into buying a refurbished unit for more money than those units are actually worth relative to the original Part Number: 65.12-6 943 429 units (which can come with bugs and can be pretty much something you may want to avoid). I would try to seek out a Part Number: 65.12-6 961 215 unit where ever you decide to buy your unit from. Even if it a BMW Dealership make sure you ask for the Part Number: 65.12-6 961 215 unit since they may charge you the same price of over $1,000 for it.
Here is some pictures of the Superior CD53 Part Number: 65.12-6 961 215 Radio and their respective labels;
I just bought this unit on eBay for my car with this sticker on the bottom. (I was lucky to find it for $200 BUY IT NOW) :
Here is another pristine unit made in May 06 that is on eBay right now for $298: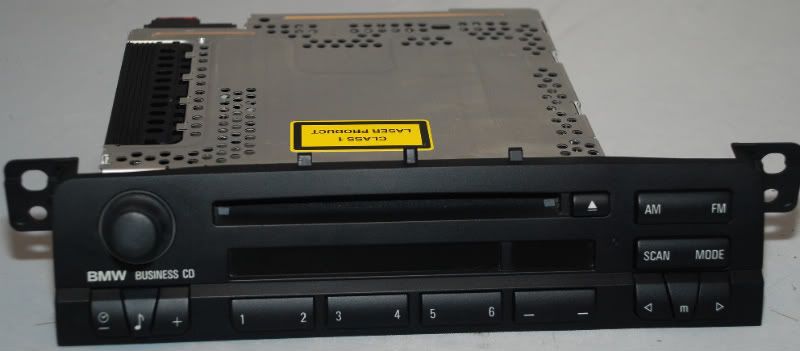 In these pictures below you will see how this slick eBay seller tries to peel away the Remanufactured Parts# sticker to reveal the original Parts# beneath so that he can bump up the price. He is selling his units for $309 and $319 based on the prod dates of NOV 04 and FEB 05 respectively claiming the later build date deserves the price increase when both of these units are most likely refurbished versions of their bug ridden/factory recalled Part Number: 65.12-6 943 429 original units.
A general rule of thumb for visually inspecting if the unit has MP3 digital capabilities is that the Business CD53 Radio that play MP3 files usually has the black trim along the same side as the pin17 connectior-input that is in the back.
And it should ALWAYS be an Alpine-made unit that has the MODE button in the place of the older Blaupunkt CD button under the AM/FM buttons.