1st Gear Member
Join Date: Mar 2010
Posts: 162
Mentioned: 0 Post(s)
Tagged: 0 Thread(s)
Quoted: 0 Post(s)
(Thread Starter)
Speedware Motorsports Open House & Car Show 11/06/10
---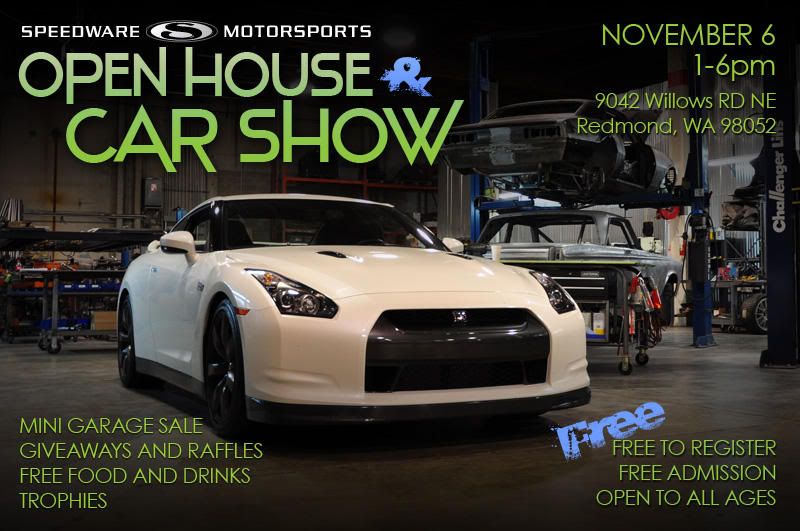 5 Winners... 5 Trophies...
Best Stance, Most Functional, Best VIP, Best Engine Bay, and Speedware Choice!.
To register please email
[email protected]
Include your full name, phone number, and email.
Attach 1 Photo of your car.
Pre Register Attendees will receive one free raffle entry.
Roll in begins at 11:45.
1st Gear Member
Join Date: Mar 2010
Posts: 162
Mentioned: 0 Post(s)
Tagged: 0 Thread(s)
Quoted: 0 Post(s)
(Thread Starter)
1. Johnny Lin- AW E92 M3- Johnny
2. twinturbo335Ci- SG E92 335i
3. Mookster- AW E46 M3- Mookie
4. WU99WU- Black E92 335i- Mark
5. WU99WU- Black 645ci- Mark
6. mickaphely- Silver E46 M3- Mike
1st Gear Member
Join Date: Mar 2010
Posts: 162
Mentioned: 0 Post(s)
Tagged: 0 Thread(s)
Quoted: 0 Post(s)
(Thread Starter)
These are the people that will be displaying their cars in the show and request in for same parking area.

1. Johnny Lin- AW E92 M3- Johnny
2. twinturbo335Ci- SG E92 335i
3. Mookster- AW E46 M3- Mookie
4. WU99WU- Black E92 335i- Mark
5. WU99WU- Black 645ci- Mark
6. mickaphely- Silver E46 M3- Mike
7. snoopy0355- Blue E46 M3- Jason
8. ACS M3- Gray E46 M3- AL
9. Testarossa E92- Red E92 328i
10. mikeokimster- Black E92 328i- Mike
11. dirnegrey- Black E90 335i- Gary

Peopler who are coming to check out the show:

1. jaino66- AW E90 335i- Howard
2. Addison- White GTR- Addison
3. iceriver- White NSX- Julian
4. Secretariat- TBD Z4MC
5. JimmyT- 135i- Jimmy
1st Gear Member
Join Date: Mar 2010
Posts: 162
Mentioned: 0 Post(s)
Tagged: 0 Thread(s)
Quoted: 0 Post(s)
(Thread Starter)
These are the people that will be displaying their cars in the show and request in for same parking area.

1. Johnny Lin- AW E92 M3- Johnny
2. twinturbo335Ci- SG E92 335i
3. Mookster- AW E46 M3- Mookie
4. WU99WU- Black E92 335i- Mark
5. WU99WU- Black 645ci- Mark
6. mickaphely- Silver E46 M3- Mike
7. snoopy0355- Blue E46 M3- Jason
8. ACS M3- Gray E46 M3- AL
9. Testarossa E92- Red E92 328i
10. mikeokimster- Black E92 328i- Mike
11. dirnegrey- Black E90 335i- Gary
12. felixtjandra- Silver E90- Felix

PS. For all us who are in for the display, we will have to carvan all once. Roll in begins at 11:45 and shows start at 1PM, so how about we all meet up together at 11:30 and leave at 11:50? I also got the location picked at one of the closest Starbucks with a good parking lots. Here is the address, 15738 Redmond Way, Redmond, Washington 98052. It is only 2 mins away from Speedware Motorsports. When we rool in, please be sure to check in to claim your free Raffle Ticket. Please let me know what you guys think on the time and location. And be sure to bring some detail equipments to make your car show and shine at the show.


Peopler who are coming to check out the show:

1. jaino66- AW E90 335i- Howard
2. Addison- White GTR- Addison
3. iceriver- White NSX- Julian
4. Secretariat- TBD Z4MC
5. JimmyT- 135i- Jimmy
6. JEROM3 - TiAg e46 M3 (maybe)
7. ///Rob206- Blue E46 M3- Robert
1st Gear Member
Join Date: Mar 2010
Posts: 162
Mentioned: 0 Post(s)
Tagged: 0 Thread(s)
Quoted: 0 Post(s)
(Thread Starter)
These are the people that will be displaying their cars in the show and request in for same parking area.

1. Johnny Lin- AW E92 M3- Johnny
2. twinturbo335Ci- SG E92 335i
3. Mookster- AW E46 M3- Mookie
4. WU99WU- Black E92 335i- Mark
5. WU99WU- Black 645ci- Mark
6. mickaphely- Silver E46 M3- Mike
7. snoopy0355- Blue E46 M3- My buddy
8. ACS M3- Gray E46 M3- AL
9. Testarossa E92- Red E92 328i
10. mikeokimster- Black E92 328i- Mike
11. dirnegrey- Black E90 335i- Gary
12. felixtjandra- Silver E90- Felix
13. anthoj - AW E92 328xi - Tony
14. Jacky822- AW E92 335i- Jacky

PS. For all us who are in for the display, we will have to carvan all once. Roll in begins at 11:45 and shows start at 1PM, so how about we all meet up together at 11:30 and leave at 11:50? I also got the location picked at one of the closest Starbucks with a good parking lots. Here is the address, 15738 Redmond Way, Redmond, Washington 98052. It is only 2 mins away from Speedware Motorsports. When we rool in, please be sure to check in to claim your free Raffle Ticket. Please let me know what you guys think on the time and location. And be sure to bring some detail equipments to make your car show and shine at the show.


Peopler who are coming to check out the show:

1. jaino66- AW E90 335i- Howard
2. Addison- White GTR- Addison
3. iceriver- White NSX- Julian
4. Secretariat- TBD Z4MC
5. JimmyT- 135i- Jimmy
6. JEROM3 - TiAg e46 M3 (maybe)
7. ///Rob206- Blue E46 M3- Robert
8. 325i_racer-Black 335i- (maybe)
1st Gear Member
Join Date: Mar 2010
Posts: 162
Mentioned: 0 Post(s)
Tagged: 0 Thread(s)
Quoted: 0 Post(s)
(Thread Starter)
These are the people that will be displaying their cars in the show and request in for same parking area.

1. Johnny Lin- AW E92 M3- Johnny
2. twinturbo335Ci- SG E92 335i
3. Mookster- AW E46 M3- Mookie
4. WU99WU- Black E92 335i- Mark
5. WU99WU- Black 645ci- Mark
6. mickaphely- Silver E46 M3- Mike
7. snoopy0355- Blue E46 M3- My buddy
8. ACS M3- Gray E46 M3- AL
9. Testarossa E92- Red E92 328i
10. mikeokimster- Black E92 328i- Mike
11. dirnegrey- Black E90 335i- Gary
12. felixtjandra- Silver E90- Felix
13. anthoj - AW E92 328xi - Tony
14. Jacky822- AW E92 335i- Jacky

PS. For all us who are in for the display, we will have to carvan all once. Roll in begins at 11:45 and shows start at 1PM, so how about we all meet up together at 11:30 and leave at 11:50? I also got the location picked at one of the closest Starbucks with a good parking lots. Here is the address, 15738 Redmond Way, Redmond, Washington 98052. It is only 2 mins away from Speedware Motorsports. When we rool in, please be sure to check in to claim your free Raffle Ticket. Please let me know what you guys think on the time and location. And be sure to bring some detail equipments to make your car show and shine at the show.


Peopler who are coming to check out the show:

1. jaino66- AW E90 335i- Howard
2. Addison- White GTR- Addison
3. iceriver- White NSX- Julian
4. Secretariat- TBD Z4MC
5. JimmyT- 135i- Jimmy
6. JEROM3 - TiAg e46 M3 (maybe)
7. ///Rob206- Blue E46 M3- Robert
8. 325i_racer-Black 335i- (maybe)
9. s_buterfly- Silve E90 328i- Caroline
10. fred2167- Black E90 325i- Fred
11. thwgw24- Black E90 335i- George (maybe)
12. Lee- Silver Mazda 6- Lee
Currently Active Users Viewing This Thread: 1

(0 members and 1 guests)
Posting Rules

You may not post new threads

You may not post replies

You may not post attachments

You may not edit your posts

---

HTML code is Off

---