n00b
Join Date: Dec 2006
Posts: 3
Mentioned: 0 Post(s)
Tagged: 0 Thread(s)
Quoted: 0 Post(s)
(Thread Starter)
About to buy this Z4 off a friend; is it worth it?
---
About to buy this Z4 off a friend; is it worth it?
I'm about to buy my friends Z4 and want to know if it is a good price and if there is anything I should be aware of.
I currently own a 523i Touring (1999 model), in past had a 7 series from 1997.
This sort of roadster is new for me so need a bit of advice/tips from Z4 owner/drivers.
The car is a mint/pristine Titanium Silver 2003 model Z4. It is the 3 litre automatic model, but it has had an M-Conversion done (whatever that is?); has an M-Power badge on back and M-Power on steering wheel.
It was top of range model in 2003 with every possible option box checked i.e. heated front seats, upgraded hi-fi, DVD TV, sat nav, rear spoiler, titanium split alloys, teletext etc.
It has only done 36,000 miles with full BMW service history.
The owner is a friend of mine and he is really fussy about his cars, he keeps them pristine and keeps them immaculately.
I'd like to know what you guys think this car is worth before letting you know how much I am going to be buying it for.
Also I'm a bit confused about the M power thing, is there an official UK BMW Dealer M Power conversion, what does it cost, what do they do?
Here is a link to a page I've put up so you can see the pictures of it.
Z4 pics
I am Teh Edumacator.
In the USA, you could expect that car to go for between $23,000 and $27,000.
---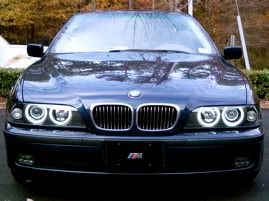 1999 E39 540i/6-VF Stage 1 S/C, Dinan exhaust, Dinan strut+shock braces, Dinan ltwt flywheel + clutch, Dinan Brembo BBK, Dinan monoball, H&R Springs, Koni Yellows, M5 sways, Dinan forged 18" wheels, &c.
1995 E38 740i. Highly modded. Faster than you.
Sold 2-28-07: 1997 E36 M3/4, 8-30-05 RIP 1997 528i
Lindsay fan club member.
Administrator
Ask your friend (and a BMW dealership) about the m-power conversion, as it may just be a couple of badges he put on it
I wish I could help with a price estimate, but a brand new Z4 here starts at around $35k, so any pricing we give you will not translate in the UK.
---

Currently Active Users Viewing This Thread: 1

(0 members and 1 guests)
Posting Rules

You may not post new threads

You may not post replies

You may not post attachments

You may not edit your posts

---

HTML code is Off

---