Disclaimer: I can not be held liable for any damages or injuries incurred through the use of this tutorial, software or anything you download. This is not meant to serve as a aid in acquiring illegal software or music. Void where prohibited by law. No warranty is implied, applied or stated. Use at your own risk.
I know a lot of you have struggled with torrents so I decided to make a tutorial for all those that never figured it out:
NOTE:
Some screens may differ due to my usage of version .56 as opposed to the newest one, but generally it should be pretty similar. I'm running a download now, but if anyone gets stuck big time, I'll download the new one and re-do the first part of this.
THE SOFTWARE
1.
First, we start off by getting a bittorrent client (software). There are many; my weapon of choice is BitLord which we get from
BitLord - The Ultimate Torrent Downloader
Click the GET IT NOW! Box.
2.
Pick the free version (or the .56 version at the bottom if this one doesn't work for you --
I still use .56, so some screens might differ.
)
3.
This is what the main screen should look like after starting the program. (Ignore the download going in mine -- that is today's TopGear)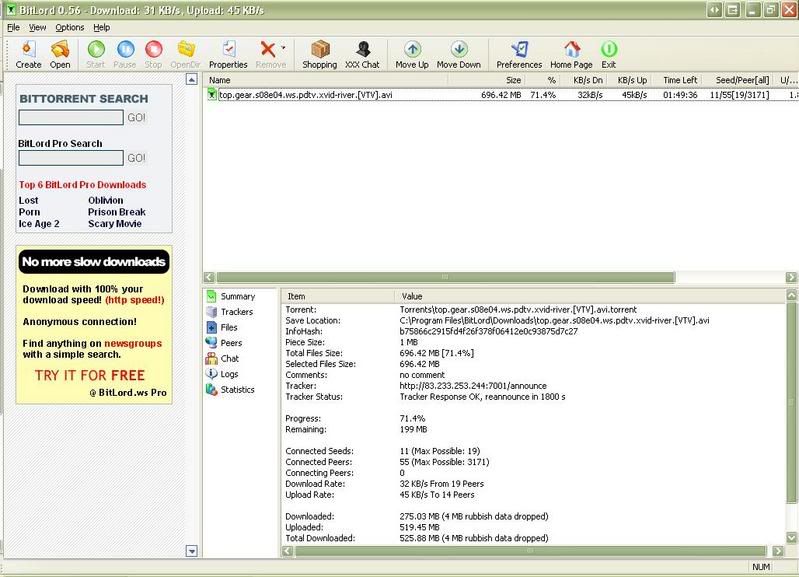 4.
Go into Options>Preferences
Change options to reflect what you see here. The listening port thing doesn't matter as long as it is left ON!
THE DOWNLOAD
5.
Go to
mininova : the ultimate bittorrent source!
, and search for whatever it is you want to download. Here, we are looking for the newest top gear, therefore we put in top gear, and after we get results we click the word "Added" to sort by date added. We then find the newest episode.
Click the name of it.
6.
That will take you to another page.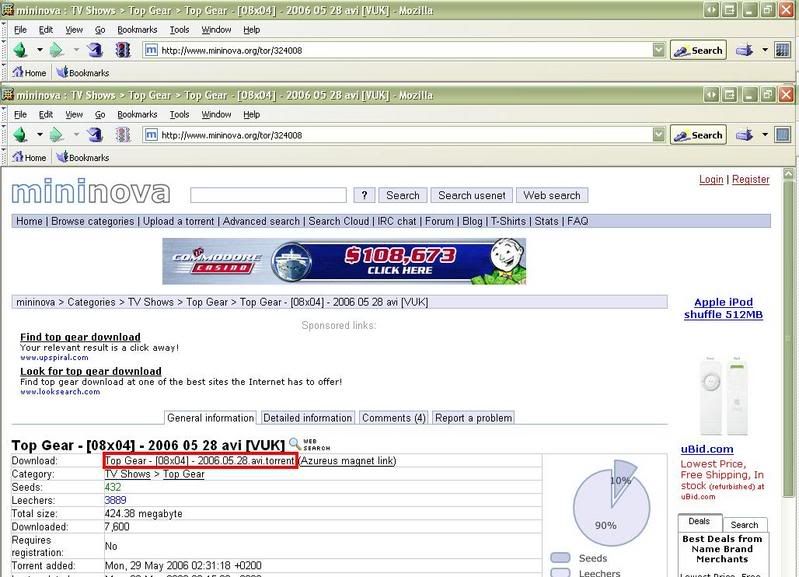 Click the name to initiate the torrent-tracker download.
7.
No need to save this, so just let it open with default aplication (which should be BitLord):
8.
When it opens, choose where to save your actual download by hitting Browse. When done, hit OK -- your download should start.
9.
If your download hasn't started, right click it's name and hit START. Also right click again and go to priority>high.
IF YOURS ISN'T WORKING, make sure you are allowing BitLord to go past your firewall and establish a connection:
You can remove the task after the download is done (don't hit task and file .. for obvious reasons), but it is advised you leave it on for a hour or 2 to allow others to download from you for a while.
Any questions you may have, either pm me or post in this thread.