n00b
Join Date: Feb 2009
Posts: 2
Mentioned: 0 Post(s)
Tagged: 0 Thread(s)
Quoted: 0 Post(s)
(Thread Starter)
1999 540i
---
Hello...I am thinking about getting a 99 540i with 120k miles and 6speed manual. It is a one owner car and other than that I really don't know a thing. The carfax is clean, what things can I look for...aesthetically it is beautiful. I get get it for around $7900...good deal???
OMFG another one!?
Join Date: Aug 2004
Location: Miami FL
Posts: 14,724
Mentioned: 1 Post(s)
Tagged: 0 Thread(s)
Quoted: 1 Post(s)
Have you checked Kelly Blue Book?
---
BMW
Sig by zeaq

n00b
Join Date: Feb 2009
Posts: 2
Mentioned: 0 Post(s)
Tagged: 0 Thread(s)
Quoted: 0 Post(s)
(Thread Starter)
I'm not really looking for the price...I have check kbb and that's all good but is there anything I can look for that is usually going out over 100k miles....thanks
I am Teh Edumacator.
I think it's a great deal as long as it's well-maintained. Jump on it.
---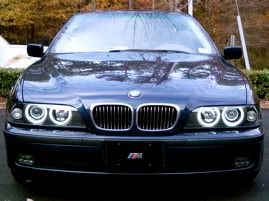 1999 E39 540i/6-VF Stage 1 S/C, Dinan exhaust, Dinan strut+shock braces, Dinan ltwt flywheel + clutch, Dinan Brembo BBK, Dinan monoball, H&R Springs, Koni Yellows, M5 sways, Dinan forged 18" wheels, &c.
1995 E38 740i. Highly modded. Faster than you.
Sold 2-28-07: 1997 E36 M3/4, 8-30-05 RIP 1997 528i
Lindsay fan club member.
Currently Active Users Viewing This Thread: 1

(0 members and 1 guests)
Similar Threads
Thread
Thread Starter
Forum
Replies
Last Post
FS 1999 540i a/t

fastshivy

Cars For Sale

12

12-21-2006

03:18 PM

1999 540i Engine Replacement

beachbumm

5-Series (E12,E28, E34, E39, E60)

5

06-20-2005

10:56 PM

What Does It Mean When A 1999 540i

Delmarco

5-Series (E12,E28, E34, E39, E60)

3

04-04-2005

12:01 PM

05 Lagacy vs. 1999 540i

mcchicken

5-Series (E12,E28, E34, E39, E60)

4

07-22-2004

03:57 PM
Posting Rules

You may not post new threads

You may not post replies

You may not post attachments

You may not edit your posts

---

HTML code is Off

---