n00b
Join Date: Mar 2005
Posts: 2
Mentioned: 0 Post(s)
Tagged: 0 Thread(s)
Quoted: 0 Post(s)
(Thread Starter)
hey i am new to the forums and i tried doing a search for realted topics but the search on here sucks (imo).but anyways the question i wanted to ask is that i have been looking into getting a e30 m3 for a project car and was wondering if any one on here has done a newer gen m3 motor swap into the e30 chassis i was thinking e46 if possible, please dont laugh if this is rediculous most of my experience with swaps comes from subarus which are pretty much like legos.
thanks
You Can Has A Custom Title!!
A main issue is money (duh?) and the fact that you are goign from a i4 to a i6 so the engine mounts are in different spots. Also major work would be needed to be done to the suspension to compensate for weight plus the obvious computer work to be done.

A lot of information can be found in the e36 section. The Top Moderator of this forum just completed swapping a i6 e36 M3 engine into his e36 3er. This includes a lot of information about enigne swapping but isn't e30 M3 specific.
---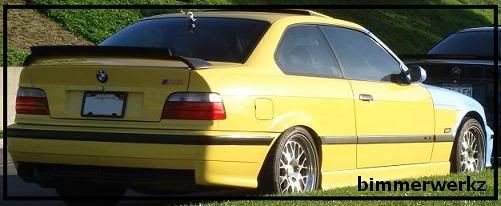 1995 BMW M3 Turbo - Dakar/Black
ex owner/admin
thanks ///Mpower


first off welcome to BMW-forums
a know of a few people who have swapped various engines into the e30's. depending on what model engine your refering to is also a huge factor if anything go with an s50 or s52 (1995 and 1996-1998 m3 engines) ,as mentioned above it takes money, the s50 and s52 are both more resonable as far as swapping goes, there is less work in the electronic deparment and the engines are smaller than the s54 (e46 m3 engine). another consideration to take into granted is when swapping the s54, there is lots of extra electronic things to be weary of such as the fly-by-wire throttle, complicated sensors etc etc.. extensive engine bay work has to be done to clear room for the s54, everything from motor mounts to moving accessories around and cutting for clearance. on top of all this motor work your also looking at a suspension upgrade to handle the extra weight, brakes, it is quite expensive to do all this work ( ive really shortened this whole post down i appologize , its just there is so much involved) in my very personal opinion id take that money and look into forced induction.



for what its worth i think the e30 M3 is perfect byitself, its balance and power makes it the best M3 of all of them (thats my opinion)
---
Currently Active Users Viewing This Thread: 1

(0 members and 1 guests)
Posting Rules

You may not post new threads

You may not post replies

You may not post attachments

You may not edit your posts

---

HTML code is Off

---