1st Gear Member
Join Date: Dec 2004
Posts: 267
Mentioned: 0 Post(s)
Tagged: 0 Thread(s)
Quoted: 0 Post(s)
(Thread Starter)
Stroking an S50B30 95 M3 motor
---
Anyone know where I can find info on stroking a 3.0 S50 engine? I'm looking to make some decent power NA, and then possibly go with a supercharger, but I don't want to be like everyone else and just throw a Vortech on it and call it a day. I am tearing the motor down now, and will have the head ported, polished, and decked, and a valve job done, along with the block being acid dipped and both being inspected. Where should I go from there? Keep in mind that I am not rich, and will do as much of the work as I can myself. I rebuild internal combustion engines on aircraft in the Air Force, so I think I can handle the assembly stuff, and some minor engine work. Thanks,
-Tim
1st Gear Member
Join Date: Dec 2004
Posts: 267
Mentioned: 0 Post(s)
Tagged: 0 Thread(s)
Quoted: 0 Post(s)
(Thread Starter)
I have a new idea. Well, not new, just modified. According to BMW factory specs, I can overbore the block from my S50 to take S52 piston sizes. I could then us an S52 crank and Wiseco forged S52 pistons. In particular, they have a set of 13:1 compression pistons. Stroked and bored to basically a 3.2, plus the 13:1 pistons, OBD1 harness from my S50, head work (port, polish, valve job, decked), maybe some sunbelt cams (heard they are a bit more aggressive than schrick), underdrive pulleys (have 'em from Turner MS already). What do you guys think? I know I would have to run high octane gas, but any ideas on how much power I may be able to make? Oh, and since I am going to Korea for a year, I will be saving up for the TEC3, AEM, or another stand-alone EMS. Opinions? Help? Naysayers?
-Tim
You Can Has A Custom Title!!
Sounds expensive.
---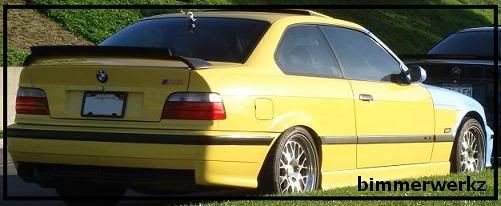 1995 BMW M3 Turbo - Dakar/Black
Teh Peetsa Gai
Join Date: Apr 2004
Location: Havelock, NC
Posts: 3,478
Mentioned: 0 Post(s)
Tagged: 0 Thread(s)
Quoted: 0 Post(s)
13 to 1 compression? sounds a bit high. You will DEFINITELY need to run high octane fuel. If you're going to put the s/c on, you might as well keep the compression down to a reasonable level. Otherwise, you're acid treated block and gold plated components will go boom.
---
'86 325es (TURTL3): PJ peetsa hawler
'87 535is (BADWATER): almost done... really.
'86 325e (GRN HLL): DD/show/rocket
'04 x3 3.0i: Wife's Bimmer (manual, woot!)
My BMW Blog
1st Gear Member
Join Date: Dec 2004
Posts: 267
Mentioned: 0 Post(s)
Tagged: 0 Thread(s)
Quoted: 0 Post(s)
(Thread Starter)
Well, I would definitely run really high octane, probably race gas. And this would be for NA power. I would drop in some stock or dished pistons when I slap the blower on. Already got the machine shop lined up for the work, just need to get a good set of pistons so they can bore and hone the cylinders to match the individual pistons.
Currently Active Users Viewing This Thread: 1

(0 members and 1 guests)
Posting Rules

You may not post new threads

You may not post replies

You may not post attachments

You may not edit your posts

---

HTML code is Off

---