n00b
Join Date: Jun 2004
Posts: 6
Mentioned: 0 Post(s)
Tagged: 0 Thread(s)
Quoted: 0 Post(s)
(Thread Starter)
Im debating on what kind of car to get and am thinking an e36 M3. My little brother got a 4 door M3 and its hard to compare overall performance and price to anything else. But the biggest concern I have is RELIABILITY. I currently drive a 400whp Mitsu Eclipse which has been nothing but problems. I am in college now and am looking for a car that isnt going to demand hardy any major maintenance. Am I safe with an M3? It will remain in stock form for many years to come and someday maybe get the parts it deserves. Other cars Im thinking are the VW GTI, Audi A4t quattro, or maybe a Subaru WRX?? Any help will be appreciated. Thanks Tyler
n00b
Join Date: Jun 2004
Posts: 6
Mentioned: 0 Post(s)
Tagged: 0 Thread(s)
Quoted: 0 Post(s)
(Thread Starter)
Im also looking at the Audi S4, Saab 9-3 but nothing really seems to compare to the overall stats of the e36 m3. What Im asking here to rephrase what I said above is. Are there any major issues(motor failure etc.) known in the 95-99m3s? And what car would you go for out of the list?
You Can Has A Custom Title!!
First of all, compared to the S4 and the M3, the Saab 9-3 is UUUUGGLLYY! to me at least, many people like it. I was watching car and driver and the Saab doesn't handle as well as others in the class either. But anyways, my brother has a 96' A4 and that thing is the biggest piece of shit because it is the first year A4. Other then that, I haven't heard much bad about the newer audi's. If you have the money for an e46 then that would be what I would reccomend, but I drove a 98 e36 m3 the other day and it was definately a sweet car. I talk to the guy who owns it quite a bit and he has never really had any problems with it. And there are a few other people I know with e36's of various years, same deal, no one has had problems with them.

If you don't mind me asking, what college you going to?
---
Dinan Stg 2 Phoenix Yellow M3
You Can Has A Custom Title!!
HAH nice to see your onyl looking european. Good choices. The M3 is an awesome car and I have a few friends with thm. Along the spectrum they dont get many problems. But if you are planning on putting otu a good aount of HP, id say go witht the e36 M3 1995 which has an OBDI system so you could more easily put on a supercharger.
---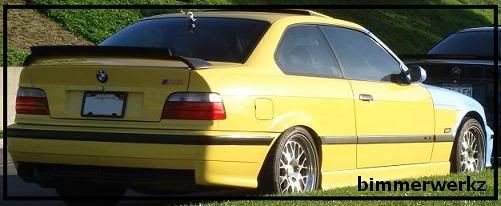 1995 BMW M3 Turbo - Dakar/Black
You Can Has A Custom Title!!
go 95 e36

ill admit that BMWs are expensive cars. they dont really have that many problems, but when they do.... $$
---
n00b
Join Date: Jun 2004
Posts: 6
Mentioned: 0 Post(s)
Tagged: 0 Thread(s)
Quoted: 0 Post(s)
(Thread Starter)
I am going to STI(southeast technical institute) in sioux falls, sd for now and maybe transfer to a 4 year after Im done with my aas in marketing or double major in business administration also. I have definately made my mind up on the e36 m3 for now. Maybe down the road the e46 but to much insurance for a kid like me. As far as big horsepower Im getting away from that and find the M's power a real kick in the pants and still reliable. I dont know if I wrote it above but I drive a 95 mitsu eclipse thats 400-450whp as my daily driver and have tons of problems that are killing me financially. I have heard that the Audis are less reliable and expensive to fix. They also require a set of rims and a drop from factory specs to look nice IMO. As far as fixing the M if its down we do the work all ourselves(my fam) and with my brother already having one we can buy any specialty tools that we may need. Im not sure but I thought the 95s had some type of oil lubrication failure that wrecked the engine???I thought I read that somewere but I will try to go with a newer year to keep mileage down on them unless you all object and a certain year is better than the rest? Thanks for the help...Tyler
Currently Active Users Viewing This Thread: 1

(0 members and 1 guests)
Posting Rules

You may not post new threads

You may not post replies

You may not post attachments

You may not edit your posts

---

HTML code is Off

---