n00b
Join Date: Mar 2005
Posts: 13
Mentioned: 0 Post(s)
Tagged: 0 Thread(s)
Quoted: 0 Post(s)
(Thread Starter)
I'm looking in to getting new intake for my 99 M3. right now it's bone stock. i have been looking at Dinan CAI ($450), K&N FIPK ($240), Conforti ($360), and AA ($350). They all seem to have similiar gains in Hp/ Tq, so my concerns now are the sound and the reliability. i don't want an intake that sounds like a ricer they all can
. will the different materials produce radically different sounds? any and all info will help. tx
---
You Can Has A Custom Title!!
Ive heard all those except the K&N on e36's. They all sound great. My friend I belive has a K&N on his RSX possibly and it sounds nice. The discharge when you shut off the car is a head turner.

Is your car still under warranty?
---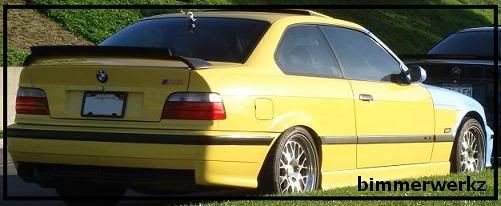 1995 BMW M3 Turbo - Dakar/Black
n00b
Join Date: Mar 2005
Posts: 13
Mentioned: 0 Post(s)
Tagged: 0 Thread(s)
Quoted: 0 Post(s)
(Thread Starter)
no warrernty anymore as of last may so i'm free to do anything with it.

any more comments on these intakes would be great!!
---
Currently Active Users Viewing This Thread: 1

(0 members and 1 guests)
Posting Rules

You may not post new threads

You may not post replies

You may not post attachments

You may not edit your posts

---

HTML code is Off

---