A boring topic, I know, but it's nice in today's high priced environment.

On my way home from North Carolina yesterday, I put my 528 on cruise at 70mph and cruised uninterruptedly on I-95 for 170 miles home. It was 70 for almost the entire thing, other than just a couple necessary traffic maneuvers.

I scored 36 miles to the gallon. I was using plain old Shell 89 octane.

This is an eight year old car!
__________________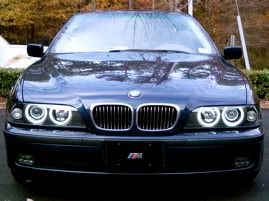 1999 E39 540i/6-VF Stage 1 S/C, Dinan exhaust, Dinan strut+shock braces, Dinan ltwt flywheel + clutch, Dinan Brembo BBK, Dinan monoball, H&R Springs, Koni Yellows, M5 sways, Dinan forged 18" wheels, &c.
1995 E38 740i. Highly modded. Faster than you.
Sold 2-28-07: 1997 E36 M3/4, 8-30-05 RIP 1997 528i
Lindsay fan club member.