1st Gear Member
Join Date: Jun 2004
Posts: 228
Mentioned: 0 Post(s)
Tagged: 0 Thread(s)
Quoted: 0 Post(s)
(Thread Starter)
Also for me it was a fun weekend..
---
On saturday a buddy of mine had a anti-slipcourse, quad-driving and Porsche driving for his birthday.
So I got there and went up for a peek. He was busy with his anti-slipcourse, all very boring (bad track) but I was waiting for the Porsche drive.
So finally it was time, his girlfriend and me got in my car (still quite warm), we went up for a 2km drive so it could warm back up and then he hit the road, full throttle in 2nd and 3rd gear starting from 40km/h the Porsche took off, and so did I so his girlfriend could take some shots.
To my personal amazament and amusement the Porsche didn't took one inch on me, I could keep up whole the way... After doing 160 where 70 is allowed we turned and went back. It was quite wet tarmac so I dropped it with the acceleration (bad rear tyres) but after the good tarmac started I pushed my car to the red line in 2nd and 3rd, came up with the porsche and we went on doing 150, still keeping it up.
After returning I've got compliments from the Porsche instructor
Conclusion: '92 Porsche 911 Carrera 4 added on my list
Yesterday there was a sort of BMW meeting, so I went up there with some hurry (stayed in bed too long) and went up doing 190km/h, passing a Honda S2000.
I so him coming after me so I cut down on the gas and let him passed me, he smiled and I went after him. Them do those things have a high rev limit, but then again.. I could keep up with hime
We had 20min of fun and then he went of the freeway.
Back from the meeting I caught up a MB SL350, those things are way to heavy... because I kept up with him, and in some corners on the freeway he slammed his brakes. That dude really needed some Bilsteins
So, my slightly modded 328i is equal to a old Porsche, a 10K RPM Honda S2000 and a new type MB SL350
I am Teh Edumacator.
What engine mods do you have, again?
---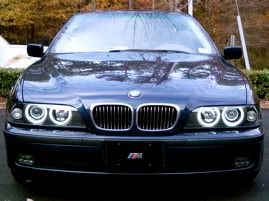 1999 E39 540i/6-VF Stage 1 S/C, Dinan exhaust, Dinan strut+shock braces, Dinan ltwt flywheel + clutch, Dinan Brembo BBK, Dinan monoball, H&R Springs, Koni Yellows, M5 sways, Dinan forged 18" wheels, &c.
1995 E38 740i. Highly modded. Faster than you.
Sold 2-28-07: 1997 E36 M3/4, 8-30-05 RIP 1997 528i
Lindsay fan club member.
1st Gear Member
Join Date: Jun 2004
Posts: 228
Mentioned: 0 Post(s)
Tagged: 0 Thread(s)
Quoted: 0 Post(s)
(Thread Starter)
Full Eurospec M3 exhaust with spaghetti intake manifold
For Teh Walrus?
Not sure about the Porsche but the s2000 has 240 hp and is way lighter. Either way sounds like you had fun.
---
"I would not know what the spirit of a philosopher might wish more to be than a good dancer."
- Friedrich Nietzsche
1980 635csi Euro . . . Current
1985 535i . . . Soon to be parted out
2001 Subaru Forester . . . DD
1st Gear Member
Join Date: Jun 2004
Posts: 228
Mentioned: 0 Post(s)
Tagged: 0 Thread(s)
Quoted: 0 Post(s)
(Thread Starter)
The Porsche has 260hp but a bit heavier. And indeed it was fun (and didn't received a fine for it
)
Currently Active Users Viewing This Thread: 1

(0 members and 1 guests)
Posting Rules

You may not post new threads

You may not post replies

You may not post attachments

You may not edit your posts

---

HTML code is Off

---