Administrator
Join Date: Apr 2006
Posts: 485
Mentioned: 0 Post(s)
Tagged: 0 Thread(s)
Quoted: 0 Post(s)
(Thread Starter)
Alpina B3 S Boosts BMW 335i Horsepower By 33%
---
Alpina is an interesting BMW tuner, taking run-of-the-mill BMWs and transforming them directly on the BMW assembly line. In some markets, like here in Southern California, you can walk into your local BMW dealership and see a (grossly inflated) Alpina vehicle on the showroom floor. The company's resume extends from 3-Series E21 to E90, 5-Series E12 to E60/61, 6-Series E24 to E63/64, 7-Series E32 to E65/66, and even the 8-Series E31. Oh yeah, they like to dabble with the Z1, Z4 and Z8 roadsters too.
Now naturally since Alpina sells full automobiles rather than just tuning packages, their end product better be impressive. They claim the new B3 S sports 400-hp and 400 ft-lbs of torque, a 33.33-percent increase from the factory 300/300 figures. They don't really elaborate on how these figures are achieved, but if we had to guess it's pretty simple through an ECU upgrade that tosses in (safely of course) more boost and fuel to the 3.0L inline-six twin-turbo. Oh, and apparently the increased horsepower and torque comes with a side-effect of lowered emissions. We're pretty sure that's just negated though since you'll just be more tempted to romp on the throttle.
On the exterior is a front spoiler and a new rear diffuser, both sporting very traditional Alpina styling. Their Classic alloy wheel gets a new treatment as seen on their previously released B7.
Currently the offering is only available in the U.K. and this isn't just available for the coupes and convertibles, they've got a similar package for the E90 sedan.
More:
Alpina B3 S Boosts BMW 335i Horsepower By 33%
on AutoGuide.com
2nd Gear Member
I wonder if they have this setup for the 1er........
---
How do I spell relief?!?!?!
NO MORE DAMN SNOW!!!!!!
Im Bluffin With My Muffin
Join Date: Nov 2006
Location: Palo Alto, CA
Posts: 5,992
Mentioned: 0 Post(s)
Tagged: 0 Thread(s)
Quoted: 0 Post(s)
Nice always love Alpina's cars
I drool over the new B7 that is by my work
---
1991 Ford Taurs SHO 5 Speed White on Tan
1996 Chevy Lumina LTZ Rep 3.4L
1992 318i Coupe parts car
1992 325i Ls1 swap with a T56 6 speed 12.2 quarter mile
1976 Mercedes Benz 300D with a Ford 5.0L Fuel Injected soon to be Modded
I am Captain Obvious
Best Car Insurance | Auto Protection Today | FREE Trade-In Quote
5th Gear Member
Join Date: May 2008
Location: Germany
Posts: 1,940
Mentioned: 0 Post(s)
Tagged: 0 Thread(s)
Quoted: 0 Post(s)
UK only? I doubt that they neglect their home market, Germany...
anywho, my dream car is the B5 S Touring, since we drove it last year. 540hp Touring =
---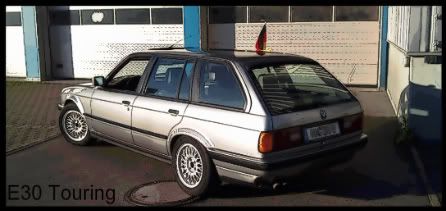 Currently Active Users Viewing This Thread: 1

(0 members and 1 guests)
Posting Rules

You may not post new threads

You may not post replies

You may not post attachments

You may not edit your posts

---

HTML code is On

---