n00b
Join Date: Aug 2008
Posts: 2
Mentioned: 0 Post(s)
Tagged: 0 Thread(s)
Quoted: 0 Post(s)
(Thread Starter)
transmission malfunction error message
---
I have a 2004 530i automatic trans. with 81,000 miles. A few months ago, the trans. malfunction error message came on and the car went into the fail safe mode. I pulled over, shut the engine off and restarted. That cleared the error and everything was fine. About 3-4 weeks later, the same thing happened. I pulled over again and shut the engine off for 1-2 minutes and that cleared the error again.

Recently, the error message came on again and this time it would not clear, so I took it to local import repair shop and they read the codes and cleared the error. They said I would have to bring the car back and leave it with them to pinpoint what the exact problem is. The codes are:

4F85 (Ratio Monitoring Clutch)
50DD (Two Substitute Functions Active)
299A (Car Fault EGS)

Can anybody interpert these codes and explain what the problem is?

Thanks....

steve
n00b
Join Date: May 2011
Posts: 1
Mentioned: 0 Post(s)
Tagged: 0 Thread(s)
Quoted: 0 Post(s)
Hey guys, I have just been through the ringer on all this with my wife's car. I am sharing my experience in the hopes that it will help someone else.
My wife's BMW 2005 BMW 530i started exhibiting driving issues after we bought it. When coming to a stop it would bump pretty hard like someone was rear-ending us. In addition, it started throwing 4F85 codes.
We took it to BMW who told us we needed to swap out the tranny with a rebuilt one. My warranty company was not down with that and they had me take it to a transmission rebuilder. I took it to Eagle Transmission on Inwood in Dallas, Texas. Doug Brice is the owner and he is one of the best. Initially he rebuilt the transmission and found out why there was such a severe bump. Apparently there is some slack in the clutches that needs to be tightened up.
Once the car was back together, they test drove it and found the 4f85 code came back. We were both scratching our heads on this one because searching the forums and internet did not give us much. So he put a call into ZF, the manufacturer of the transmission and waited. Surprisingly a tranny rebuilder from ZF called back. He told him that 4F85 is not electrical, but mechanical. The bushing for the input shaft wears out of spec and then you start getting that code. You can't buy just the bushing, you need to purchase the shaft for about $500. It is not something you can just eyeball on the bushing, you need to measure it and check it against the limits of the allowable clearance.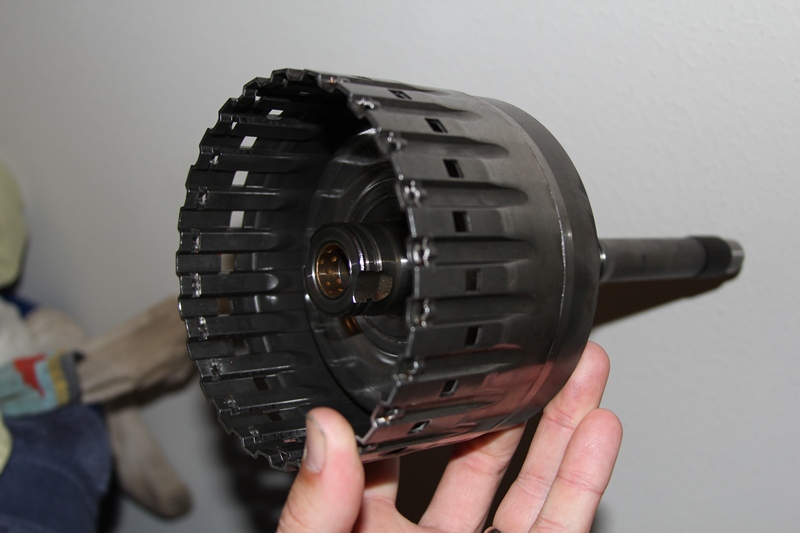 He ordered a new input shaft and put it in, he said it was much tighter than the old part. We have had the car back a few days and I have to say, it is great. He took out the slop in the downshift and take offs, and we have not got the code again. If anyone is having this trouble, it is with the ZF ZFLS6HP19 transmission and he can take care of you. Keep in mind, this transmission is not just in the BMW 530i, but other BMWs as well. This problem seems to be quite a money maker for BMW and ZF. The bushing appears to be under-supported and thus wears quickly causing this issue. It would be nice if they would come out with a decent fix, but apparently building a quality transmission is less important than building a money making transmission.
Again, contact Doug and he can help you out.
His number is
214-352-2200
3317 Inwood Rd
Dallas, TX 75235
Neutral Member
Join Date: Jun 2008
Location: Walnut Creek, CA
Posts: 67
Mentioned: 0 Post(s)
Tagged: 0 Thread(s)
Quoted: 0 Post(s)
Jc, thanks for the nice write-up.
42, The meaning of life
Join Date: Jul 2009
Location: Melbourne, Australia
Posts: 2,405
Mentioned: 0 Post(s)
Tagged: 0 Thread(s)
Quoted: 0 Post(s)
Welcome to the Werkz. Its great to have such a useful inaugral post, well done. Habeng around and keep up the good work.
---
To view links or images in signatures your post count must be 10 or greater. You currently have 0 posts.
Riding in style
Captain... Savvy ?
Join Date: Apr 2011
Location: Barnsley UK
Posts: 2,194
Mentioned: 0 Post(s)
Tagged: 0 Thread(s)
Quoted: 1 Post(s)
Bugger me, hope I don't get a "4F85"... Doin' a service RIGHT NOW lol...
Great POST !
5th Gear Member
Join Date: Jan 2007
Location: england
Posts: 1,118
Mentioned: 0 Post(s)
Tagged: 0 Thread(s)
Quoted: 0 Post(s)
an informative and interesting post keep up the good work and welcome
Currently Active Users Viewing This Thread: 1

(0 members and 1 guests)
Posting Rules

You may not post new threads

You may not post replies

You may not post attachments

You may not edit your posts

---

HTML code is Off

---