n00b
Join Date: Aug 2006
Location: Windsor
Posts: 26
Mentioned: 0 Post(s)
Tagged: 0 Thread(s)
Quoted: 0 Post(s)
(Thread Starter)
Tires for E39 2001 530iA
---
Hi all,

I noticed the other day that my OEM Michelins got a bubble on the wall, everyone keeps saying that this is because I hit something. TRUST ME, this is not the case. I read some reviews that say a lot of people are having the same problems with the tire.

What would you guys recommend for an All-Season tire for a 2001 530iA.

Something that will give me good tread life, comfortable, secure winter driving, and some preformance in the summer.

I know you cant get everything in one shot, but suppose you were looking for these things in priority as listed above???

Thanks all...
I am Teh Edumacator.
I really liked switching to General Exclaim UHP tires on my M3.
---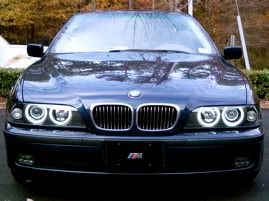 1999 E39 540i/6-VF Stage 1 S/C, Dinan exhaust, Dinan strut+shock braces, Dinan ltwt flywheel + clutch, Dinan Brembo BBK, Dinan monoball, H&R Springs, Koni Yellows, M5 sways, Dinan forged 18" wheels, &c.
1995 E38 740i. Highly modded. Faster than you.
Sold 2-28-07: 1997 E36 M3/4, 8-30-05 RIP 1997 528i
Lindsay fan club member.
teh Canuck....eh
In Windsor, your best bet in the winter would likely be an ice radial. General all-seasons are no where near as good in the ice and hardpack snow as a dedicated tire. Something like the Michelin X-Ice (I use these in the winter on some cheap steel wheels, and they kick ass). Then you could get a nice performance tire for the shoulder seasons and summer on your OEM wheels, you'll have way more fun in the summer, and way less headaches in the winter.
---
All great things are simple, and many can be expressed in single words: freedom, justice, honor, duty, mercy, hope.
Sir Winston Churchill
Currently Active Users Viewing This Thread: 1

(0 members and 1 guests)
Posting Rules

You may not post new threads

You may not post replies

You may not post attachments

You may not edit your posts

---

HTML code is Off

---