n00b
Join Date: Mar 2005
Posts: 3
Mentioned: 0 Post(s)
Tagged: 0 Thread(s)
Quoted: 0 Post(s)
(Thread Starter)
I recently purchased a 95 525i with 112K on the odometer. I received a tail light warning this evening on the dash and checked it out at home. The socket where the bulb locks in was slightly melted - I couldn't tell whether it was fresh or not. Anybody had this happen? Not sure if the previous owner had the light installed incorrectly or not.

thanks
butch
68th gear and shifting
what was the wattage for the bulb?
if the bulb was high wattage, it could have melted your wires and such
so yeah, incorrect installation will do it
---
member and partial creator of the
Pimpin' The Auto
club
Quote:
m20 pwr: "oh yeah baby, pour some acid on my penis"

R.I.P. fast 6
"drive hard
keep it clean
and most of all have fun driving"
n00b
Join Date: Jul 2004
Posts: 25
Mentioned: 0 Post(s)
Tagged: 0 Thread(s)
Quoted: 0 Post(s)
Quote:
Originally posted by Butchee@Aug 17 2005, 04:23 PM
I recently purchased a 95 525i with 112K on the odometer. I received a tail light warning this evening on the dash and checked it out at home. The socket where the bulb locks in was slightly melted - I couldn't tell whether it was fresh or not. Anybody had this happen? Not sure if the previous owner had the light installed incorrectly or not.

thanks
butch


[snapback]370351[/snapback]
Check for corrosion. That creates resistance to the current that results in heat.
But, no, I've never heard of this on an e39.
You Can Has A Custom Title!!
Ive heard of it, but usually for front bulbs. It happens a lot when people want really blue lookign headlights, so they go out and buy some cheapo japanese brand headlights that fit their car, without checking wattage, and it usually results in melting their bulb socket and wires.
---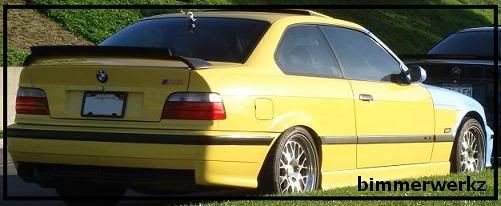 1995 BMW M3 Turbo - Dakar/Black
n00b
Join Date: Jul 2004
Location: Bay Area, Cali
Posts: 27
Mentioned: 0 Post(s)
Tagged: 0 Thread(s)
Quoted: 0 Post(s)
i've actually heard of this happening many times. do make sure you are using the correct wattage bulbs. many bulbs will fit in the socket, but may not be the correct wattage. when in doubt, hit up the stealer, and they can get you the correct bulbs for not that much more than the automotive store.
---
-Rob
CarDomain Page
Currently Active Users Viewing This Thread: 1

(0 members and 1 guests)
Posting Rules

You may not post new threads

You may not post replies

You may not post attachments

You may not edit your posts

---

HTML code is Off

---