n00b
Join Date: Aug 2007
Posts: 27
Mentioned: 0 Post(s)
Tagged: 0 Thread(s)
Quoted: 0 Post(s)
(Thread Starter)
Service Engine Soon light came on.
---
So I went threw the manual and looked it up. It says something about ODB and the purpose of it is to ensure proper emission controle system operation for the vehicles lifetime by monitoring emission-releated componets and systems for deterioration and malfunction. It gose on to say that it can misfire and cause damage to the catalytic converter. I was thinking it was the filler cap might be tightened all the way so I tighted it back up and the book said the indicator should extinguish within a few days. Was wondering
if a OBD-II tool would tell me the exact problem or would it just give me a basic description like the indicator light? Heres hoping its just the gas cap. Another question what is the best OBD-II tool to get? are there a preferd one say over another.
---
Last edited by Redcell; 09-19-2007 at

09:46 AM

.
n00b
Join Date: Jan 2006
Location: Albany NY
Posts: 40
Mentioned: 0 Post(s)
Tagged: 0 Thread(s)
Quoted: 0 Post(s)
I don't know what type of BMW you have this issue, but any how, you need to get the codes read, once you know the codes then you can start trouble shooting. I heard that you can bring your car to Autzone and others to have the codes read. I own a Check Engine Light reset and scanner, the best money I've ever spent, it costs about $130 from Peake Research
n00b
Join Date: Aug 2007
Posts: 27
Mentioned: 0 Post(s)
Tagged: 0 Thread(s)
Quoted: 0 Post(s)
(Thread Starter)
But will the code reader tell me exactly what is going on? Like it misfiring or something is wrong with the cat? Buy the way I have a 01 525I with the sport package. And sorry for the messed up post above I was at work and was in a hurry to post. I will proof read my stuff before hand.
5th Gear Member
Join Date: May 2004
Posts: 1,414
Mentioned: 0 Post(s)
Tagged: 0 Thread(s)
Quoted: 0 Post(s)
The codereader will tell you the reason the check engine light is on. Basically, that light comes up when a fault is detected. It's not always the part that OBDII mentions that actually broke, but it's something involved in that system. Rather than chasing ghosts under the hood, it's at least a point in the right direction and is almost always accurate.
---
<iframe src="http://gamercard.xbox.com/TiddlyPlatypus.card" scrolling="no" frameBorder="0" height="140" width="204">Put your gamertag here too.</iframe>
n00b
Join Date: Oct 2007
Posts: 2
Mentioned: 0 Post(s)
Tagged: 0 Thread(s)
Quoted: 0 Post(s)
Check Engine Light Issues?
---
n00b
Join Date: Dec 2012
Posts: 5
Mentioned: 0 Post(s)
Tagged: 0 Thread(s)
Quoted: 0 Post(s)
Just wanted to weigh in on a code reader solution I got that seems to work great on my 2004 Tundra and also on my wife's 2006 BMW X3. It's a Bluetooth OBDII connector that you pair up to and Android powered smart phone. Here is a little write up/review I did for it and for the Torque Pro app, hope it helps some folks, reading these codes and being able to get information from your ECU is awesome! I was able to read some codes on the X3 (the seemingly common P0174 and P0171 Too Lean Bank 1 and 2 codes) and clear them which turned off the SES light.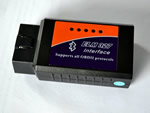 ELM327 Bluetooth OBDII Reader and Torque Android App Review
n00b
Join Date: Jul 2012
Location: Phoenix
Posts: 6
Mentioned: 0 Post(s)
Tagged: 0 Thread(s)
Quoted: 0 Post(s)
Whoa !!! This might be a new record.
Resurrecting a thread over five years old!
OMFG another one!?
Join Date: Aug 2004
Location: Miami FL
Posts: 14,724
Mentioned: 1 Post(s)
Tagged: 0 Thread(s)
Quoted: 1 Post(s)
Closed, from 2007
---
BMW
Sig by zeaq

Currently Active Users Viewing This Thread: 1

(0 members and 1 guests)
Posting Rules

You may not post new threads

You may not post replies

You may not post attachments

You may not edit your posts

---

HTML code is Off

---