n00b
Join Date: Nov 2008
Posts: 4
Mentioned: 0 Post(s)
Tagged: 0 Thread(s)
Quoted: 0 Post(s)
(Thread Starter)
Need Advice !!!
---
Hey guys, I just joined the forum and was hoping to get some advice since I'm thinking of buying a new car pretty soon. My choices are a 2005-2006 Infiniti G35 with around 40-50,000 miles for around $16-18,000.... OR a 2001-2002 BMW 540i with around 80,000 miles, and this one goes for about $13.5-17,000....I understand that the G will be newer, cheaper to fix, but I'm really focused on the BMW (after all it is the "Ultimate Driving Machine") If you guys have and advice on mileage, taking care of the car, problems that this car may have, what can I expect from this car, or any other pros and cons for the BWM or any other advice, professional/personal ANYTHING, please let me know, I would greatly appreciate it. THANKS IN ADVANCE
Neutral Member
Join Date: Jun 2008
Location: Walnut Creek, CA
Posts: 67
Mentioned: 0 Post(s)
Tagged: 0 Thread(s)
Quoted: 0 Post(s)
Just my 2 cents. I got a 2002 540i with 64k miles, auto trans (I wanted an auto trans),
sport package (don't get one without the sport package), premium sound, pass thru rear
seat and laydown rear seat. It had brakes that measure out as new, a full size spare
that had never been on the ground, excellent leather and exterior (no dings), a 2 year
old battery, but did break a belt on the passenger power seat. Oh yeah, the tires were
about 90% of new. Everything else works perfectly.

Paid 15,750 plus tax and license.

Best car I've ever driven.
3rd Gear Member
Join Date: Dec 2007
Location: Detroit, MI
Posts: 570
Mentioned: 0 Post(s)
Tagged: 0 Thread(s)
Quoted: 0 Post(s)
well you might get some biased opinions here, I would suggest the 540i, but get the 6 speed not the auto. As Long as you do the recomended maintence and maybe to a little prevenative when you get it if you don't know when things were last done it should keep going and keep you happy for many miles.
I am Teh Edumacator.
Yes, the E39's maintenance will be more pricey, but the car is mature enough at this point that all the maintenance items you should worry about are clearly defined.

The driving experience will be much better in the E39 than in the Nissan.

I think you'll find the price tag for the E39 to be lower than you quote. Prices on E39's have been coming down precipitously in the last six months or so.
---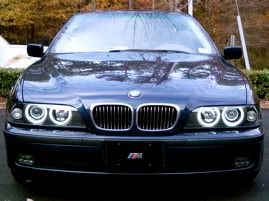 1999 E39 540i/6-VF Stage 1 S/C, Dinan exhaust, Dinan strut+shock braces, Dinan ltwt flywheel + clutch, Dinan Brembo BBK, Dinan monoball, H&R Springs, Koni Yellows, M5 sways, Dinan forged 18" wheels, &c.
1995 E38 740i. Highly modded. Faster than you.
Sold 2-28-07: 1997 E36 M3/4, 8-30-05 RIP 1997 528i
Lindsay fan club member.
n00b
Join Date: Nov 2008
Posts: 4
Mentioned: 0 Post(s)
Tagged: 0 Thread(s)
Quoted: 0 Post(s)
(Thread Starter)
5th Gear Member
Join Date: Jul 2003
Location: Florida
Posts: 1,290
Mentioned: 0 Post(s)
Tagged: 0 Thread(s)
Quoted: 0 Post(s)
I'm with everyone else here, I've owned 2 540i's before, GO for the Bimmer, either Sport Package Auto, or 6speed. You won't regret it.

Just do a thorough PPI, and use any faults or maintenance issues to negotiate for a good deal. Expect these issues at that mileage, and check to see if they have already been taken care of:

MAF sensor
O2 Sensors
Water Pump
Radiator (hairline cracks on top/neck)
Oil Separator
Dash LED Display
Control Arms
Power Steering hoses


Good Luck!
---
2012 Porsche 911 GTS
2008 Ford F150 Foose Edition
2010 VW Touareg
----------------------------------
Gone
...2002 Porsche 911 C4S
Gone
...2000 BMW 540i
Gone
...1995 BMW 540i
n00b
Join Date: Nov 2008
Posts: 4
Mentioned: 0 Post(s)
Tagged: 0 Thread(s)
Quoted: 0 Post(s)
(Thread Starter)
Thanks I'm Going To Check It Out In A Few Days. The Only Downside Is That There's No Warranty And I Can't Get Extended Warranty Because Car Is Too Old And Have 75k Miles. That's Why I'm Afraid To Buy It, Cuz If I'm Unlucky, I'll Be Completely Screwed With The Repairs
Currently Active Users Viewing This Thread: 1

(0 members and 1 guests)
Posting Rules

You may not post new threads

You may not post replies

You may not post attachments

You may not edit your posts

---

HTML code is Off

---