n00b
Join Date: Jun 2005
Posts: 1
Mentioned: 0 Post(s)
Tagged: 0 Thread(s)
Quoted: 0 Post(s)
(Thread Starter)
My I-drive on my 2004 530 has a mind of its own. It has been posting odd error messages for no reason and changes settings on its own.
Problem #1
with one of my keys, the radio shows the station names (eg JACK FM) on the screen along with the station frequency while the other key only shows the station frequency. I have never found a setting for this on the user interface.
Problem #2
The air conditioning is not working with one of my keys (the one with which the radio works properly...) The fan can be heard to be blowing full tilt but nothing is coming out of the vents. I've turned up all the variables in the climate settings to max but this has no effect. It's almost seems like there's a vent inside the dash which is not opening. With the other key, everything works as it should.
Misc Things
Warning messages about the trunk being open suddenly appearing while driving down the street
Odd messages about there being too much pressure pushing the drivers window up.

I took the car in to the dealer a while ago to complain about this but they couldn't locate any real problem. Anyone else experiencing this sort of sillyness?
5th Gear Member
Yeah, but I'm not sure which year it was...2003/2004 530i. It was really weird. The guy was in 1-2 times each week. He finally traded it in and got a 2005 545i and hasn't been in for months.

It was really weird....stuff like the warning light came on that the seat-belt wasn't fastened...when it really was and the tech was standing right there. Wierd stuff man.

My best advice is...for the key, ask if the EWS chip has gone bad.

Or trade it in for a 2005 545i....no problems at all.

Good luck!

Keep us updated.

Thanks
n00b
Join Date: Nov 2008
Location: Poole
Posts: 6
Mentioned: 0 Post(s)
Tagged: 0 Thread(s)
Quoted: 0 Post(s)
I have the same problem but now my Idrive has given up all together. I have just bought my 530D 53 plate and it had those problems on the test drive. it went to our local BMW dealer and came back fixed for 3 days and then decided to switch itself off and on when it likes. now it doesnt work as i cant get it to turn on. going back in under warranty this week so more news to come i'm sure.
I am Teh Edumacator.
Keep us updated!
---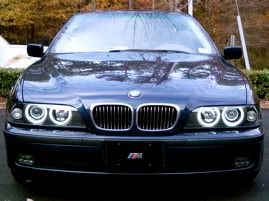 1999 E39 540i/6-VF Stage 1 S/C, Dinan exhaust, Dinan strut+shock braces, Dinan ltwt flywheel + clutch, Dinan Brembo BBK, Dinan monoball, H&R Springs, Koni Yellows, M5 sways, Dinan forged 18" wheels, &c.
1995 E38 740i. Highly modded. Faster than you.
Sold 2-28-07: 1997 E36 M3/4, 8-30-05 RIP 1997 528i
Lindsay fan club member.
teh Canuck....eh
Jack Fm...you in Calgary?
---
All great things are simple, and many can be expressed in single words: freedom, justice, honor, duty, mercy, hope.
Sir Winston Churchill
n00b
Join Date: Nov 2008
Location: Poole
Posts: 6
Mentioned: 0 Post(s)
Tagged: 0 Thread(s)
Quoted: 0 Post(s)
Car booked in to main dealer on Thursday this week.
No response from any one on the forum so i hope BMW can sort. Watch this space!!!!
Is it reallly that serious?????
Currently Active Users Viewing This Thread: 1

(0 members and 1 guests)
Posting Rules

You may not post new threads

You may not post replies

You may not post attachments

You may not edit your posts

---

HTML code is Off

---