n00b
Join Date: Oct 2008
Posts: 5
Mentioned: 0 Post(s)
Tagged: 0 Thread(s)
Quoted: 0 Post(s)
(Thread Starter)
HELP!!! Removing '98 E39 Shift Knob!
---
Anyone here replaced their shift knobs? I have NO clue how to get the damn thing out...are there any screws, because i dont see any. I have an AUTOMATIC 528i. I read on one thread that you pull it str8 out, but yet another thread mentioned there MAY be screws...but doesn't specify WHERE!

Anyone have the REAL story??? Thanks!
I am Teh Edumacator.
Well, with the manual shift knob you just pull up. I don't know whether that applies to the automatic knob or not.
---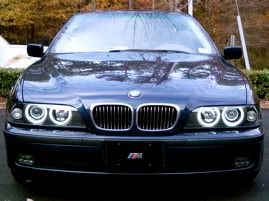 1999 E39 540i/6-VF Stage 1 S/C, Dinan exhaust, Dinan strut+shock braces, Dinan ltwt flywheel + clutch, Dinan Brembo BBK, Dinan monoball, H&R Springs, Koni Yellows, M5 sways, Dinan forged 18" wheels, &c.
1995 E38 740i. Highly modded. Faster than you.
Sold 2-28-07: 1997 E36 M3/4, 8-30-05 RIP 1997 528i
Lindsay fan club member.
Help from over the pond
Join Date: Sep 2008
Location: IPSWICH. U.K.
Posts: 3,242
Mentioned: 0 Post(s)
Tagged: 0 Thread(s)
Quoted: 0 Post(s)
Ok, put it in 'N' Pull in trigger and pull up straight, you do need a bit of strength. P.s Keep you face out of the way or you will lose you front teeth!!!!!
---
VELVET BLUE UK INDIVIDUAL , IM THE LAST
UNITED WE STAND DIVIDED WE FALL
I stepped in a plate of Pasta the other day - now I have to worry about my Carbonara footprint!
Currently Active Users Viewing This Thread: 1

(0 members and 1 guests)
Posting Rules

You may not post new threads

You may not post replies

You may not post attachments

You may not edit your posts

---

HTML code is Off

---