n00b
Join Date: Feb 2008
Posts: 2
Mentioned: 0 Post(s)
Tagged: 0 Thread(s)
Quoted: 0 Post(s)
(Thread Starter)
Help with no starting 540i 6 spd with dinan stage 4 cpu management
---
It all started when my 98 540i with stage 4 dinan software stopped starting. The starter wasn't turning over and I took it to a shop in shoreline. They said my starter was broken and I paid to get that replaced. The starter turned over but thats all. No startup. They then said my EWS was at fault and I would have to go to the dealership, I got a new one it programed by BMW of Bellevue. Car worked fine after this but...a few days later.... same problem, starter was turning over but no start. Had BMW of Bellevue look at again, they said that the information that was loaded was loading incorrectly. After paying for another tow they programmed it again.I got my car back and whoops 4 days later... same problem. I took it back to BMW of Bellevue, and they now said that my DME was at fault. I had a new DME put in and re-programed again. Got my car back and again 4-5 days later here I am. Same problem minus $2000 bucks from my pocket! I don't feel 100% comfortable with the dealership and feel ripped off about now, does anyone know what this issue could be? Please help!
I am Teh Edumacator.
I'd say it sounded like a fuel delivery problem but for the small, strange fact that reprogramming actually did something...
---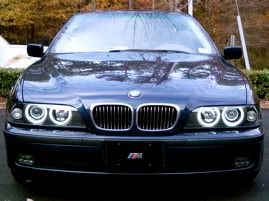 1999 E39 540i/6-VF Stage 1 S/C, Dinan exhaust, Dinan strut+shock braces, Dinan ltwt flywheel + clutch, Dinan Brembo BBK, Dinan monoball, H&R Springs, Koni Yellows, M5 sways, Dinan forged 18" wheels, &c.
1995 E38 740i. Highly modded. Faster than you.
Sold 2-28-07: 1997 E36 M3/4, 8-30-05 RIP 1997 528i
Lindsay fan club member.
n00b
Join Date: Feb 2008
Posts: 2
Mentioned: 0 Post(s)
Tagged: 0 Thread(s)
Quoted: 0 Post(s)
(Thread Starter)
security programing?
---
I have a friend who is almost convinced that it is something as simple as my key fob battery not being charged and not sending the "this car isn't stolen" code to the dme. The dealership has claimed that the DME wasn't communicating with the key also which is why they replaced it. I dont want to push people in the wrong direction in case my friend is wrong though ( he is certainly not a trained mechanic or bmw tech) but is it a possibility?
Moderator
Join Date: Apr 2004
Posts: 1,052
Mentioned: 0 Post(s)
Tagged: 0 Thread(s)
Quoted: 0 Post(s)
If the key is faulty then the starter will not even turn. Take the car back to BMW of Bellevue, let them know of the continued problems that you are having and ask them to get the shop foreman involved in working on your vehicle.
---
DT
Currently Active Users Viewing This Thread: 1

(0 members and 1 guests)
Posting Rules

You may not post new threads

You may not post replies

You may not post attachments

You may not edit your posts

---

HTML code is Off

---