n00b
Join Date: Dec 2008
Posts: 1
Mentioned: 0 Post(s)
Tagged: 0 Thread(s)
Quoted: 0 Post(s)
(Thread Starter)
can you swap out an e39 m5 cluster to a 98 540ia
---
can you swap out an e39 m5 cluster to a 98 540ia?
I am Teh Edumacator.
Highly unlikely. The complexities of recoding a used cluster are nutty. Making a new cluster work in your car would also be very difficult.
---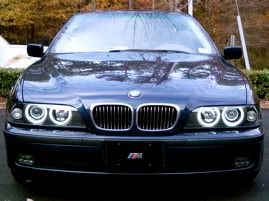 1999 E39 540i/6-VF Stage 1 S/C, Dinan exhaust, Dinan strut+shock braces, Dinan ltwt flywheel + clutch, Dinan Brembo BBK, Dinan monoball, H&R Springs, Koni Yellows, M5 sways, Dinan forged 18" wheels, &c.
1995 E38 740i. Highly modded. Faster than you.
Sold 2-28-07: 1997 E36 M3/4, 8-30-05 RIP 1997 528i
Lindsay fan club member.
Help from over the pond
Join Date: Sep 2008
Location: IPSWICH. U.K.
Posts: 3,242
Mentioned: 0 Post(s)
Tagged: 0 Thread(s)
Quoted: 0 Post(s)
We change them on our 7's with no problem apart from the mileage is that of the donor car, a new one has to be programmed at BM dealership.
---
VELVET BLUE UK INDIVIDUAL , IM THE LAST
UNITED WE STAND DIVIDED WE FALL
I stepped in a plate of Pasta the other day - now I have to worry about my Carbonara footprint!
Moderator
Join Date: Apr 2004
Posts: 1,052
Mentioned: 0 Post(s)
Tagged: 0 Thread(s)
Quoted: 0 Post(s)
I installed one in my 540. If you get a used m5 cluster the dealer will not be able to code it because it has the VIN # of the previous car stored in it. This locks the coding equipment from recoding the unit. A new cluster however can be recoded fine. the other thing is that the oil temp will not display correctly (even when fitting a new cluster) because the engine control module in a non M car does not send the signal correctly to the cluster. other than that it works fine. Im really happy with mine.
---
DT
Currently Active Users Viewing This Thread: 1

(0 members and 1 guests)
Similar Threads
Thread
Thread Starter
Forum
Replies
Last Post
Fs: E39 (1997 540ia) Headlights

///Matt

Classifieds Sell & Buy

0

01-25-2005

01:46 PM

E39 - 540ia Vacuum Leak Cause Misfire?

///Matt

5-Series (E12,E28, E34, E39, E60)

3

01-07-2005

01:31 PM

E39 97 540ia, Misfiring

///Matt

5-Series (E12,E28, E34, E39, E60)

12

12-02-2004

02:04 AM

swap my 04' m3 coupe with a 03' 540iA sport

lthsa

5-Series (E12,E28, E34, E39, E60)

4

09-20-2004

02:41 PM

swap my 04' m3 coupe with a 03' 540iA sport

lthsa

Classifieds Sell & Buy

0

09-15-2004

01:54 PM
Posting Rules

You may not post new threads

You may not post replies

You may not post attachments

You may not edit your posts

---

HTML code is Off

---