n00b
Join Date: Jan 2004
Posts: 18
Mentioned: 0 Post(s)
Tagged: 0 Thread(s)
Quoted: 0 Post(s)
(Thread Starter)
I have a 2001 325i sedan and have had a problem with the front left turn signal intermittenly not working. It will "burn out" for a couple days, and then work again for about a week or two before it does it again. I haven't replaced the bulb because it starts working again by the time I get around to changing it. I just wanted to know if this is a common problem with this series or if anyone else has had the same problem before.
You Can Has A Custom Title!!
loose connection? do e46's have LKM's? if so check that
---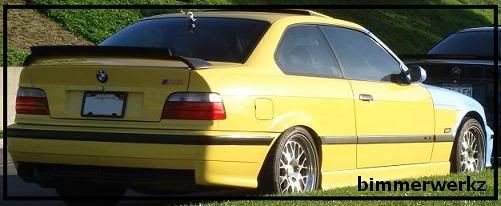 1995 BMW M3 Turbo - Dakar/Black
n00b
Join Date: Jan 2004
Posts: 18
Mentioned: 0 Post(s)
Tagged: 0 Thread(s)
Quoted: 0 Post(s)
(Thread Starter)
I have looked at the bulb and the connections and there doesnt seem to be any problem with either. I'm not sure what LKM's are, can you please explain? And just to make sure, is it a P21W bulb that goes in it, or do you know? Thanks.
You Can Has A Custom Title!!
an LKM in my e34 is the light control module (kontrol in german hence LKM). it is the main board that controls all your headlights, tail lights, low beams high beams and such. On OLDER!! cars generally the joints become weak and you headlights would start to flash in and out. This seems similar to your turn signal issue, but considering how new your car is, I doubt it. I would look into this as one of the least reasons that could cause your problem.
---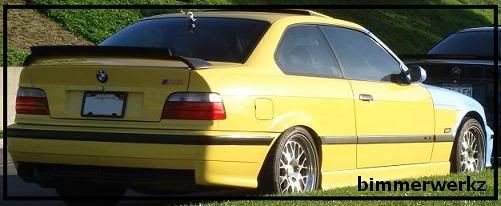 1995 BMW M3 Turbo - Dakar/Black
n00b
Join Date: Sep 2003
Location: San Diego
Posts: 47
Mentioned: 0 Post(s)
Tagged: 0 Thread(s)
Quoted: 0 Post(s)
IT IS YOUR LIGHT BULB!

I have 2002 sedan and I had the exact same problem about a month ago. Every morning the instrument cluster would indicate the front left light bulb was burned out... until I got to the end of the driveway. I'd turn on the signal (to turn left) and the indicator would blink rapidly for about 10sec and then the problem would correct itself. I was hesitant to bring it in to the dealer because I was sure it wouldn't happen when the car was in their shop.... and it would cost me like $100 at the end of the day for nothing.

Using a multi-meter I measured the (bad) light bulb resistance and it seemed OK. I then removed the right signal light bulb and put it on the left side and also put the left bulb in the right side. The problem of a faulty circuit was now on the right side of the car... proving it was in fact the bulb. I cleaned the base of the bulb and the bushing in the socket with sandpaper and the problem still persisted.

In the end it was a bad bulb. I replaced the light bulb and the problem went away. It was not a break in the circuit.

BMW recommends a 21 Watt Sylvania bulb. You can get by with any comparable bayonette style light bulb of same size and wattage.... If going with a different wattage I suggest going lower wattage.... to be on the safe side. You can get a pack of 2 bulbs for like $3. Your BMW service manual in your glove compartment will tell you how to replace the bulb... or you can also search this forum for instructions.
2nd Gear Member
Join Date: Sep 2003
Location: Denver, Colorado
Posts: 391
Mentioned: 0 Post(s)
Tagged: 0 Thread(s)
Quoted: 0 Post(s)
I had the same issue with my drivers side front turn indicator. I removed the housing from the car, then the the bulb from it's holder, the intermitant blinking had caused the contact to become worn. To fix I cleaned the contact and bent it so that more pressure would be applied to the end of the bulb once installed. Put it all back together and have not had a problem since. Took about 5 min to do. Hope it works for you also.
Ben
---
"It's not because I'm an aggressive driver, it's because I'm an idiot" actual quote from my wife.
Currently Active Users Viewing This Thread: 1

(0 members and 1 guests)
Posting Rules

You may not post new threads

You may not post replies

You may not post attachments

You may not edit your posts

---

HTML code is Off

---