n00b
Join Date: Nov 2007
Posts: 12
Mentioned: 0 Post(s)
Tagged: 0 Thread(s)
Quoted: 0 Post(s)
(Thread Starter)
Picked up my "new" car Thursday
---
Just sold my 1994 325is last Saturday (which I've driven for the last 11 years) and picked up my 2004 330ci Thursday. Story's a bit lengthy for here, so go to
New Car
WOT in Reverse
sounds like you had a totally different experience then i. i flew into Chicago on friday a.m. to buy a 330i for my boss and drove it back to Nashville. Traffic was minimal and i made my best time yet on this drive. sorry 'bout your luck.
congrats, i've had my ci for several months now, i too upgraded from an e36...im sure you'll love it. lemme know if you need any help w/ the vagueries of the climate control or anything else
---
I am Teh Edumacator.
I think y'all should check out this guy's blog. He seems like a pretty cool guy.
---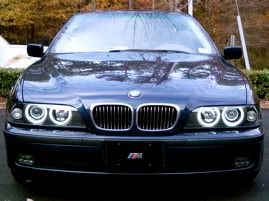 1999 E39 540i/6-VF Stage 1 S/C, Dinan exhaust, Dinan strut+shock braces, Dinan ltwt flywheel + clutch, Dinan Brembo BBK, Dinan monoball, H&R Springs, Koni Yellows, M5 sways, Dinan forged 18" wheels, &c.
1995 E38 740i. Highly modded. Faster than you.
Sold 2-28-07: 1997 E36 M3/4, 8-30-05 RIP 1997 528i
Lindsay fan club member.
Currently Active Users Viewing This Thread: 1

(0 members and 1 guests)
Posting Rules

You may not post new threads

You may not post replies

You may not post attachments

You may not edit your posts

---

HTML code is Off

---