n00b
Join Date: Oct 2004
Posts: 8
Mentioned: 0 Post(s)
Tagged: 0 Thread(s)
Quoted: 0 Post(s)
(Thread Starter)
Higher powered lights for E46
---
Hi,

for a 2004 325ci, can i replace the standard globes (non xenon) with a higher powered "white globe" ? or do i have to use exactly the same wattage ? I've heard that replaceing the standard globes with the white globes may actually reduce the output so i thought putting a higher powered globe might make up the difference. Am i likely to damage wiring etc. with a higher powered globe ? What have people used in their experiences for the 'white look' globes ?

thanks
2nd Gear Member
Join Date: Dec 2004
Location: Vancouver, Canada
Posts: 507
Mentioned: 0 Post(s)
Tagged: 0 Thread(s)
Quoted: 0 Post(s)
The stock one are 55 watts, you can go up to 75 watts. Anything above will melt sockets and fry wires sooner or later.Before installing aftermarket bulbs make sure all contact points betwen bulbs and sockets are clean.
n00b
Join Date: Oct 2004
Posts: 8
Mentioned: 0 Post(s)
Tagged: 0 Thread(s)
Quoted: 0 Post(s)
(Thread Starter)
Thats the bad thing about living in Australia.....no cool performance shops for BMW's
(
1st Gear Member
Join Date: Sep 2005
Posts: 236
Mentioned: 0 Post(s)
Tagged: 0 Thread(s)
Quoted: 0 Post(s)
Sylvania Silverstar bulbs are relatively cheap, but whiter. Just remember, don't touch the bulbs with your bare hands.
Keep it Copacetic
Take a look at
www.jlevisw.com
They have some awesome kits and even better customer service just in case. This way you can get the best possible light output and be able to pick what temperature you would like (which helps determine color)! There really is no subtitue for HID's. They draw less power and produce far more light (and even a nice color of your choice)!
Let us know whatever you decide!
---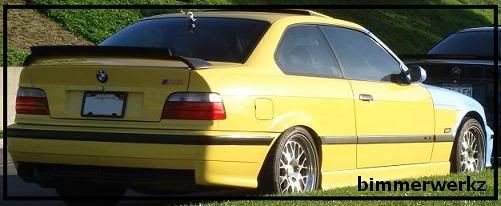 1995 BMW M3 Turbo - Dakar/Black
Currently Active Users Viewing This Thread: 1

(0 members and 1 guests)
Posting Rules

You may not post new threads

You may not post replies

You may not post attachments

You may not edit your posts

---

HTML code is Off

---