n00b
Join Date: Feb 2010
Posts: 5
Mentioned: 0 Post(s)
Tagged: 0 Thread(s)
Quoted: 0 Post(s)
(Thread Starter)
e46 vs e90 additional costs?
---
I have been looking at Bimmers for a long time and what I want to do is save a couple thousand dollars more than the car is worth, so I have a cushion in case something happens, and pay in full the cost of the car. Now, I'm either looking at an early 330Ci (01-03) or an 06 330. Besides the original price, gas, and insurance, which one will most likely be the more solid car for at least 5-7 years from now? Also, are things like fluid changes, etc. able to be done at home by an experienced mechanic? I haven't seen many earlier e46s below 50,000 miles, nor e90 330s below 30,000. How do the e90s ride on normal tires? There is no way I'm willing to pay $500 a pop for the run-flats. I know I'll be happier with the e90 because of the better handling, more features, etc, but I will be heading into college, and don't want too much to be going wrong with the car so that I can't drive it anywhere.
Also, I live far from any dealership; can a trusted shop around here do what I need them to do on a Bimmer most likely?
---
Last edited by stewartfan; 02-09-2010 at

05:54 PM

.
n00b
Join Date: Feb 2010
Posts: 5
Mentioned: 0 Post(s)
Tagged: 0 Thread(s)
Quoted: 0 Post(s)
(Thread Starter)
Administrator
Wow. Patience, please...

Anyhow, on to your questions:

The E46 and E90 are probably both just as likely to be solid for the next several years. However, keep in mind that for all used cars, the maintenance performed this far will matter a lot.

General maintenance is pretty straightforward for these cars. I don't know as much about the E90, but with newer cars there is always a potential for slightly more complicated systems. I recommend that you run several searches for DIY procedures for the different tasks that you hope to perform at home.

E90's, like every car on the planet, run better on regular rubber than on runflats.

I had never heard of this better handling you speak of on the E90. Be sure to test drive both vehicles. I personally find the handling on my E46 amazing, but I hear that with each generation, these cars are losing road feel. Thus, if you care about handling, be sure to look for models with the sport package, or be ready to spend on suspension mods.

A 2006 E90 is a first year model, so the jury is still out on whether there are any latent issues, since those cars are just starting to turn five years old. I would personally trust a well-maintained (with the records to prove it) mid-generation E46 better.

A good independent mechanic is all you need. Be sure to ask around and find one in your area. In fact, you will need a mechanic before you even buy the car so you can get an pre-purchase inspection.

I don't want to speculate about your financial condition, but bear in mind that whether you pay $12k, $15k, $20k for one of these cars you list, you will still be maintaining a $40k car.

Lastly, you mentioned that you haven't seen many earlier e46s below 50,000 miles, nor e90 330s below 30,000. Was there a question in there?

My unsolicited advice is that you find a well maintained, as low mileage as possible, E36, spend some money up front to get it in top condition, and hold on to the rest of teh cash for mods/unexpected events.

Anyhow, best of luck.
---

5th Gear Member
Join Date: May 2008
Location: Germany
Posts: 1,940
Mentioned: 0 Post(s)
Tagged: 0 Thread(s)
Quoted: 0 Post(s)
I wouldn't get the e90, too many gadgets and electronics...
---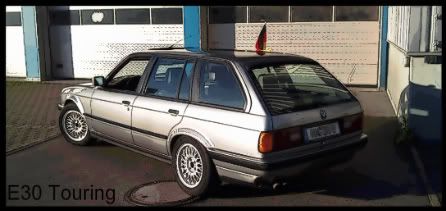 Currently Active Users Viewing This Thread: 1

(0 members and 1 guests)
Posting Rules

You may not post new threads

You may not post replies

You may not post attachments

You may not edit your posts

---

HTML code is Off

---