Neutral Member
Join Date: Jun 2006
Posts: 49
Mentioned: 0 Post(s)
Tagged: 0 Thread(s)
Quoted: 0 Post(s)
(Thread Starter)
Dinan?
---
As some of you may know (if you saw my intro thread) I just got a new 06 M3.

A buddy of mine had a 1997 M3 w/ Dinan chip, exhaust, headers, intake and I believe some suspension work. I must say that thing hauled ass.

By this time next summer I am planning on dopping a little bit of money into my M3 but I am not sure about which company I should use.

I am not looking to turbo or supercharge it, but I was just thinking about intake, headers, and exhaust.

Just wanted to basically hear some opinions about Dinan's work to E46 M3's or if you have Dinan products on your car.
2nd Gear Member
Join Date: Dec 2004
Location: Vancouver, Canada
Posts: 507
Mentioned: 0 Post(s)
Tagged: 0 Thread(s)
Quoted: 1 Post(s)
Go to M-section of this forum for info regarding your car.
---
http://www.q8oils.it/
I am Teh Edumacator.
The really nice thing about Dinan for you is that it won't affect your warranty at all. It will cost you a little money, though. They do have high quality products.
---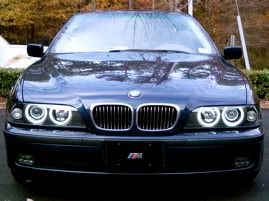 1999 E39 540i/6-VF Stage 1 S/C, Dinan exhaust, Dinan strut+shock braces, Dinan ltwt flywheel + clutch, Dinan Brembo BBK, Dinan monoball, H&R Springs, Koni Yellows, M5 sways, Dinan forged 18" wheels, &c.
1995 E38 740i. Highly modded. Faster than you.
Sold 2-28-07: 1997 E36 M3/4, 8-30-05 RIP 1997 528i
Lindsay fan club member.
The work that Dinan does is superb for the M cars (especially the E39 M5). The M3 exhaust sounds so mean on the M3, as opposed to the exhaust made for other 3 models. I highly suggest Dinan for more than one reason:

1. Warranty concerns are eliminated
2. Quality is superb
3. They offer random 10%/20% discounts from time-to-time
4. The increases may be conservative, but I assure you that the research they have done is made specifically for BMW. They don't focus on the straight line performance from 0-60 as their primary selling goal as other companies do. "Performance is not a number on a sheet, it's a combination of tuning to a perfection."

Dinan is conviently located at some local dealers to make their package seem even more involved.

In all, I suggest Dinan for the M3.
5th Gear Member
I cant wait to see the New M3 with a Dinan pkg...
---
Neutral Member
Join Date: Jun 2006
Posts: 49
Mentioned: 0 Post(s)
Tagged: 0 Thread(s)
Quoted: 0 Post(s)
(Thread Starter)
n00b
Join Date: Sep 2003
Posts: 6
Mentioned: 0 Post(s)
Tagged: 0 Thread(s)
Quoted: 0 Post(s)
---
I see that Dinan has their software at 50% off thru August.
Now would be the time to get the software!
Currently Active Users Viewing This Thread: 1

(0 members and 1 guests)
Posting Rules

You may not post new threads

You may not post replies

You may not post attachments

You may not edit your posts

---

HTML code is Off

---