n00b
Join Date: Mar 2006
Posts: 8
Mentioned: 0 Post(s)
Tagged: 0 Thread(s)
Quoted: 0 Post(s)
(Thread Starter)
can a e46 m3 engine and trans fit a 85 325e
---
can a 2002 BMW E46 M3 3.2 Engine and Gearbox fit in a 1985 325e. if so how much work will it take?
Official Bimmerwerkz Biscuit Distributer
i wouldn't count on it working..especially in an E30. it could work, but there are way too many electronics and things that need to be isntalled, it would take a very skilled mechanic to do so..and a lot a lot of $$$$$$$$$$$$$$$$$$$$$$$$$$$$$$$$$$$.
---
I hate: people who haven't died yet that I hate.
L337 Co-Founding Assistant Executive Director Product Maker of Sunset Sig's Inc.
2000 BMW M Coupe - Dakar-II - S52
"You gotta fix the nut behind the wheel before you fix the bolts on the car"
You Can Has A Custom Title!!
Anything can be done with enough money, so just sell your two enzo's and you'll probably have enough to do it.
---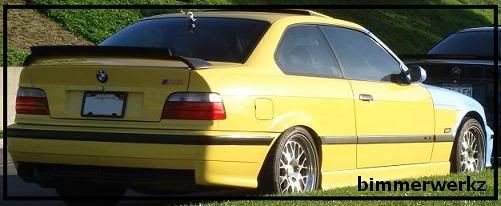 1995 BMW M3 Turbo - Dakar/Black
Teh Peetsa Gai
Join Date: Apr 2004
Location: Havelock, NC
Posts: 3,478
Mentioned: 0 Post(s)
Tagged: 0 Thread(s)
Quoted: 0 Post(s)
It's really not that bad. However, the EWS stuff and other electonic gadgets will take some wizardry. It can be done, I'm sure. I would stick with the E36 era engines though. That's just me. I'm going to go with a '95 M3 (OBD I) engine so that I won't have to deal with the extra electronics.
---
'86 325es (TURTL3): PJ peetsa hawler
'87 535is (BADWATER): almost done... really.
'86 325e (GRN HLL): DD/show/rocket
'04 x3 3.0i: Wife's Bimmer (manual, woot!)
My BMW Blog
Currently Active Users Viewing This Thread: 1

(0 members and 1 guests)
Posting Rules

You may not post new threads

You may not post replies

You may not post attachments

You may not edit your posts

---

HTML code is Off

---