Neutral Member
Join Date: May 2004
Posts: 93
Mentioned: 0 Post(s)
Tagged: 0 Thread(s)
Quoted: 0 Post(s)
(Thread Starter)
---
Just wondering, I have 18" rims on my car with tires that have the number "215 - 35 - 18" ... they are pirelli tires. Are these tires fine for my car? My car is wobbling at a certain speed and the BMW tech said theres "absolutely nothign wrong on your car, gotta be your wheels"..

Is 215 - 35 - 18 fine for 18" rims? if it isn't would it cause my car to feel like the wheels were falling off at around 30-40 mph (whole car shakes + steering wheel wobbles enough to jerk my arm about 1-1.5 inches left and right constantly).

just trying to make sure everything is fine before i make the place that sold me the rims replace my whole set of rims .. i mean, what else could it be if its not the car or the tires????
WOT in Reverse
There is nothing wrong with running those tires. A 35 series tire is a little harsh of a ride for me, but I bet they handle like a champ.

As for your problem, forgoing there is nothing wrong with your car, are your tires balanced? If some moron didn't mount the tires on the wheel properly, or weight them once mounted, this would undoubtedly be your problem.
---
You Can Has A Custom Title!!
shit yo this is ur 3rd or fourht thread.s top ur gettign answers
---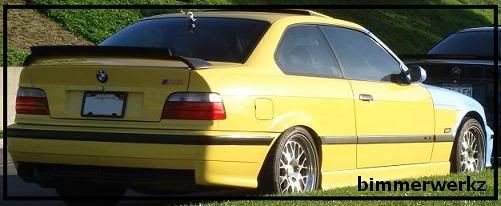 1995 BMW M3 Turbo - Dakar/Black
You Can Has A Custom Title!!
balance correct??
---
ex owner/admin
locking thread.

the answers you seek are already posted in other threads.
---
Currently Active Users Viewing This Thread: 1

(0 members and 1 guests)
Similar Threads
Thread
Thread Starter
Forum
Replies
Last Post
Best Tire Size

unjustjust

5-Series (E12,E28, E34, E39, E60)

4

01-18-2005

10:59 AM
Posting Rules

You may not post new threads

You may not post replies

You may not post attachments

You may not edit your posts

---

HTML code is Off

---