Neutral Member
Join Date: Mar 2005
Posts: 59
Mentioned: 0 Post(s)
Tagged: 0 Thread(s)
Quoted: 0 Post(s)
(Thread Starter)
please help (hurry) alternator
---
hey guys please help me out here (fast please ) im trying to instal new alternator in my 325i 94. and i can't open the fan screw the 32mm one.cause without that i cant get to tensioner screw to release belt. if some can tell me any other easy way to instal the alternator please let me. cuase i done have another car to go to work and i dont wanna pay mechanics $100 to do this kinnda job. need advice hurry please.
:
thnx
Administrator
You do not need to take off the fan. I have changed my belts and my alternator twice without doing it. Make sure you remove the airbox. Then just use a 17mm socket to release the tensioner. Remember to pry out the cap off the tensioner. I recommend that you remove the airbox becausde that gives you enough room to get good leverage. I acnnot get pictures for you right now -- I am at school and it is dark out anyway. I hope to have explained myslef well.
---
To view links or images in signatures your post count must be 10 or greater. You currently have 0 posts.
Neutral Member
Join Date: Mar 2005
Posts: 59
Mentioned: 0 Post(s)
Tagged: 0 Thread(s)
Quoted: 0 Post(s)
(Thread Starter)
hey drz i think you are right. cause im trying to reach one bolt (13mm) next to that round plastick pully the one attached to the alternator with long ass screw thats the other thing im thinking how the hell im going to take that long screw out. it means i dont know where is the tensioner at. i'm so worry and dont know wat to do. if you can send me some pics that will help me alot. or any body out there
thnx
3rd Gear Member
Join Date: Feb 2005
Location: Georgia
Posts: 693
Mentioned: 0 Post(s)
Tagged: 0 Thread(s)
Quoted: 0 Post(s)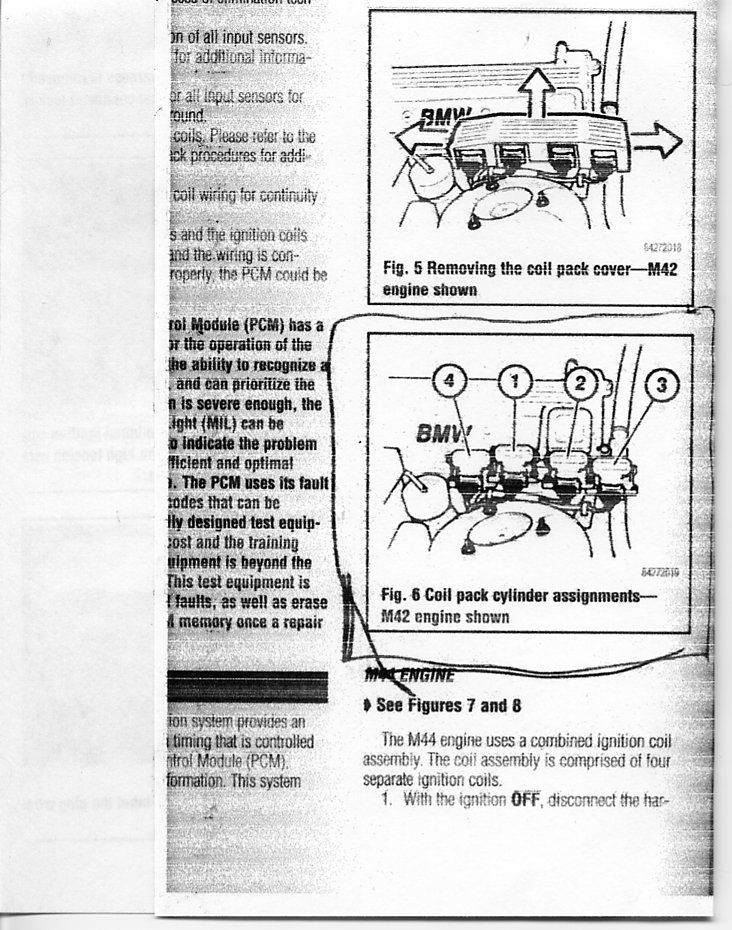 tensioner X'ed, circled, arrowed
---
1995 325I, window tint, K&N, debaffled airbox, BMW #104 wheels, Nighthawk low beams, smoked side markers, smoked corners, smoked taillights, M3 stlye heated mirrors, various interior bits, Bosal cat-back.
Currently Active Users Viewing This Thread: 1

(0 members and 1 guests)
Posting Rules

You may not post new threads

You may not post replies

You may not post attachments

You may not edit your posts

---

HTML code is Off

---