n00b
Join Date: Jan 2007
Posts: 15
Mentioned: 0 Post(s)
Tagged: 0 Thread(s)
Quoted: 0 Post(s)
(Thread Starter)
Overheating problem 1998 E36
---
I bought this car about 9 months ago and had no problems.
In September the neck where the upper radiator hose connects broke so I had to replace the radiator.
Since then when it gets really cold out the car will over heat. I live in Denver and it is cold as hell today, 2 degrees.
I was drving to work on the highway and traffic was a bit backed up but still moving and the car over heated.
I pulled into a gas station and it seemed like the coolant was low even though the computer didn't give the warning.
I bought some anti-freeze and filled it up.
I was on my way. After a bit the temperature gauge went into the red again. I was at a point where I couldn't pull over immediately, so I was trying to get some where, where I could pull over. The gauge went back down to normal. I went up and back down 2 more times before I got to work.
When I did get to work the computer did say that the coolant was low.
I checked all around and it doesn't appear to be leaking from any wear.
This is the second time this has happened. Both times have been when it has been extremely cold.

Any ideas? Thermostat?

I have searched and read several posts but nothing really seems to cover this.
5th Gear Member
I'd try a new t-stat and bleed the system well. Also make sure you are using about a 50/50 coolant to water mix. Running straight coolant will cause overheating issues.
n00b
Join Date: Jan 2007
Posts: 15
Mentioned: 0 Post(s)
Tagged: 0 Thread(s)
Quoted: 0 Post(s)
(Thread Starter)
I user the premixed anti-freeze. It says not to add water and I have not. The system has been bleed twice.
I will try changing the thermostat this weekend.
You Can Has A Custom Title!!
I'd defintely say thermostat. Sounds like it's getting stuck. Do you notice it begins to overheat mroe when you are stopped adn at idle?
---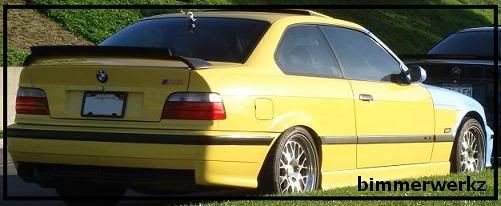 1995 BMW M3 Turbo - Dakar/Black
1st Gear Member
Join Date: Oct 2004
Location: Cambridge, ON
Posts: 106
Mentioned: 0 Post(s)
Tagged: 0 Thread(s)
Quoted: 0 Post(s)
I had the exact same problem recently. it turns out i had air in my cooling system. after i bled it properly the problem disapeared. Its been about 2 months trouble free now. Give that a try and see how it goes.
---
1998 328I
4 Door Sedan
100% Stock
n00b
Join Date: Dec 2006
Location: Pittsburgh,PA USA
Posts: 17
Mentioned: 0 Post(s)
Tagged: 0 Thread(s)
Quoted: 0 Post(s)
I am having the exact same problem with my 95 325i. The temperature gauge will just go back and forth slowly from normal to hot. I have already purchased a thermostat, but I guess you have to take off the cooling fan. How do you do that? Also, how do you bleed the system? Thanks all.
n00b
Join Date: Nov 2006
Posts: 7
Mentioned: 0 Post(s)
Tagged: 0 Thread(s)
Quoted: 0 Post(s)
Usually a thermostat will not fluxuate back and forth like that. If I were you I'd change the temp. control switch. I was having the exact same problem then it started doing that on a daily basis for about 2 weeks. I did the water pump the thermostat and a new thermostat housing as well as a new radiator cap. Didn't fix it then I did the temp. control switch and it stopped. I think the switch was like $24.99 it is a pain in the a$$ to do though. Hope that helps and good luck
Currently Active Users Viewing This Thread: 1

(0 members and 1 guests)
Posting Rules

You may not post new threads

You may not post replies

You may not post attachments

You may not edit your posts

---

HTML code is Off

---