n00b
Join Date: Apr 2011
Posts: 2
Mentioned: 0 Post(s)
Tagged: 0 Thread(s)
Quoted: 0 Post(s)
(Thread Starter)
New to the BMW world
---
Just bout a 93 325is 5-speed w/140xxx miles. Currently doing maintaince work. Just did an oil change using Castrol GTX 20w-50. Replace all pads and front brake wear sensor. Still need to replace serpentine belts, transmission fluid, diff fluid, recharge a/c replace leaking valve cover gasket, fuel filter, spark plugs, and worst the flex plate. (Any recommendations on the trans and diff fluids?)
Now my electric problems.
Battery doesnt illuminate-replaced bulb
ABS light stays lit
SRS light constantly blinks
Check engine light on
Seatbelt light doesnt illuminate-replaced bulb
When you start the car check coolant pops up then disappears, same on turning the car off.
Need to figure out how to delete factory amp/wires.
Driver window has to be pressed million times to finally be down all the way same for bringing it up
Window doesnt crack open on open and closing door
Dome lights doesnt light when driverside door open
*Can anyone help on these pics?
Purple/green and Brown wire located behind message thingy. same wire bundle for the message thingy.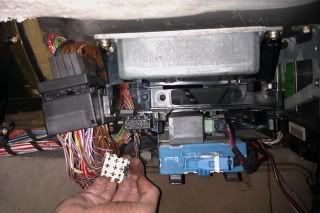 These to big plugs are located behind the glove box.
Wire was hanging on the passager side by the foglamp. Missing plug. Green and Green/black I was thinking it belongs on the brake vent piping?
3rd Gear Member
I also did alot of the things you did when I bought my M, for the tranny and diff fluid I believe I used 75w, I don't recall exactly.


Mine does alot of the same, the srs light does not blink though. May need a new impact sensor. For the abs, find someone with a reset tool and reset it, or check all your pad sensors.

I am also changing my flex disc, going with a polyurthane from uuc, I'm doing that when I do my clutch in a couple weeks.
---

To view links or images in signatures your post count must be 10 or greater. You currently have 0 posts.

|Dinan Intake|Schrick Cams|24lb Injectors|809 HFM|M50 Manifold|TMS Stage IV+|Dinan Strut Brace|Samco Hoses|UUC Pulley||UUC SSK DSSR|DDM Coilovers|Fikse FM10|Brembo Rotors|Hawk Pads|AA Exhaust|Alpine|Audiobahn|Sony|
n00b
Join Date: Apr 2011
Posts: 2
Mentioned: 0 Post(s)
Tagged: 0 Thread(s)
Quoted: 0 Post(s)
(Thread Starter)
Ill have to check on alldata for the fluids. I had the abs reset at my job but everything came back. it had to do with some circuit and the srs was unknown!? Im going to check on the polyurthane by uuc. and for the pad sensors i replaced the brakes and the pad light isnt on anymore just abs
Currently Active Users Viewing This Thread: 1

(0 members and 1 guests)
Posting Rules

You may not post new threads

You may not post replies

You may not post attachments

You may not edit your posts

---

HTML code is Off

---