n00b
Join Date: Feb 2004
Posts: 20
Mentioned: 0 Post(s)
Tagged: 0 Thread(s)
Quoted: 0 Post(s)
(Thread Starter)
My Driver Side, low beam headlight is burnt out, I tried replacing the bulb and nothing, checked fuses appears ok, can anyone tell me what fuse number is the low beam light (since mines in German) or what the problem could be?

1992 316iA
1st Gear Member
Join Date: Nov 2003
Posts: 242
Mentioned: 0 Post(s)
Tagged: 0 Thread(s)
Quoted: 0 Post(s)
7.5A
---
DREMEL is South Africa Engineer's best friend
<span style='color:blue'>HID all the way </span>
n00b
Join Date: Feb 2004
Posts: 20
Mentioned: 0 Post(s)
Tagged: 0 Thread(s)
Quoted: 0 Post(s)
(Thread Starter)
Replaced fuse still nothing, shizer

Does anyone have any other ideas????


1992 BMW 316iA
n00b
Join Date: Feb 2004
Posts: 20
Mentioned: 0 Post(s)
Tagged: 0 Thread(s)
Quoted: 0 Post(s)
(Thread Starter)
---
Fyi I fixed the problem by replacing the 7.5 fuses with 10 amps, now it works.
So I installed the Phillips blue low beams.
You Can Has A Custom Title!!
AHAHHA i know ur problem. the headlamp bulbs you are using must be more wattage than your stock headlight has. Blue ones killed mine too!

p.s. phillips blue r sweet
---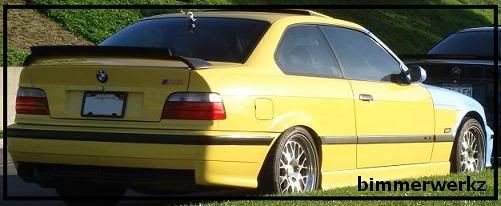 1995 BMW M3 Turbo - Dakar/Black
Millions of them.
Join Date: Dec 2003
Location: USA
Posts: 14,878
Mentioned: 0 Post(s)
Tagged: 0 Thread(s)
Quoted: 1 Post(s)
i have a 525i and I did the same thing...should I just pop in a 10A fuse in there if it is not already. because i dont want those suckers dying on me in the middle of the night/ nowhere
---
n00b
Join Date: Feb 2004
Posts: 20
Mentioned: 0 Post(s)
Tagged: 0 Thread(s)
Quoted: 0 Post(s)
(Thread Starter)
I dont know just carry a spare 10a in your fuse box, Ive read in other forums, you can put up to 15a,, but thats what ive read..... 10 works fine and im happy now
Currently Active Users Viewing This Thread: 1

(0 members and 1 guests)
Posting Rules

You may not post new threads

You may not post replies

You may not post attachments

You may not edit your posts

---

HTML code is Off

---