n00b
Join Date: Jan 2007
Posts: 2
Mentioned: 0 Post(s)
Tagged: 0 Thread(s)
Quoted: 0 Post(s)
(Thread Starter)
Hi...new here...need advice!
---
Thanks for your ear, people...

At the beginning of December, I bought my wife a 1992 BMW 325I.

It's been awesome...run great...had no problems at all.

Until this morning.

I went out before work to gas up her ride. When I got in and noticed the dome light was on and extremely dim.

She thinks she left it on when she was looking for something of the kid's last night...ok...that sucks...but, whatever.

So, I disconnect the battery and take it to O'Reilly...have it charged...and then put it back in the BMW after work.

All the lights kick on brightly, the windows work...it has electrical power now.

But the damn thing won't turn over. It's like it doesn't even try.
No sound, no "Rrrrrrrr", no nothing. Lifeless.

Yet everything works inside.

Does something somewhere need resetting?

Or do I have a more serious problem...starter, alternator?

Help, please! Any advice is appreciated.
3rd Gear Member
im not a genius but my first guess is solinoid or starter but just a guess hope it helps
---
Quote:
Originally Posted by gotKRAUT
"drag racing a BMW is like fishing with a hooker...fun but not what you got her for..."
5th Gear Member
Did they only charge the batter or charge and load test it. If they only charged it there is a good change the battery only has a surface charge which is enough to make the lights come on but doesn't have the amps to kick the starter over.
You Can Has A Custom Title!!
Charging a battery? :-/


My suggestion is find a good buddy with a compatible battery in good condition, hook it up to your car, and then give her a rip.


Ah hell screw that noise, try and jump it and see how she does.
---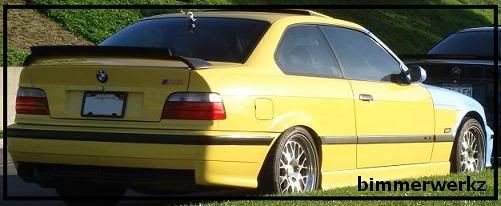 1995 BMW M3 Turbo - Dakar/Black
Administrator
Try jump starting it first. That will eliminate any doubts about the starter, etc. If that works, then your battery may be bad. As said above, have the battery load tested.

And welcome to werkz.
---

n00b
Join Date: Jan 2007
Posts: 2
Mentioned: 0 Post(s)
Tagged: 0 Thread(s)
Quoted: 0 Post(s)
(Thread Starter)
Well...

O'Reilly tested the battery...said it was good...

And they charged it.

But ok, I'll try jumping it anyway.

Thanks for the advice...trying to help.

Peace
Currently Active Users Viewing This Thread: 1

(0 members and 1 guests)
Posting Rules

You may not post new threads

You may not post replies

You may not post attachments

You may not edit your posts

---

HTML code is Off

---