n00b
Join Date: Apr 2008
Location: Kansas
Posts: 47
Mentioned: 0 Post(s)
Tagged: 0 Thread(s)
Quoted: 0 Post(s)
(Thread Starter)
Help what is this sensor and what went here etc....(with pictures and vid)
---
Hey everyone so my problems are
1. I have a clicking sound while my engine is running
this is a vid of it...(its louder in person)
BMW :: 20100504142233.flv video by SkyZ3000 - Photobucket
and its coming from here (if you could not really tell from the vid)
2. Can someone please tell me what this sensor is?
(its loose and I am pretty sure it should not do this.)
BMW :: 20100504142221.flv video by SkyZ3000 - Photobucket
Here is a picture of it.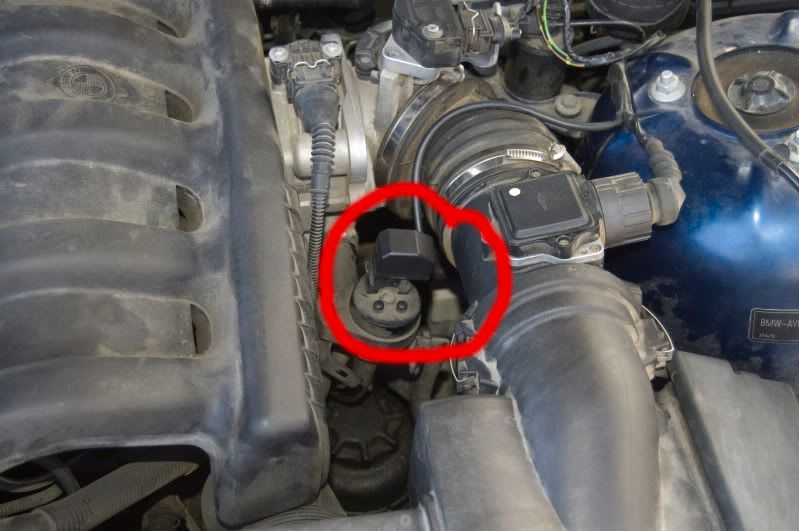 3. What goes here? (since there is only two screw holes and nothing else.)
4. Lastly are there any ill effects from removing this piece from the air box? its seems like the box would get a lot more air without it there.
(sorrry about the size of the pictures) Any and ALL help is much appreciated....thanks in advance!
n00b
Join Date: Apr 2008
Location: Kansas
Posts: 47
Mentioned: 0 Post(s)
Tagged: 0 Thread(s)
Quoted: 0 Post(s)
(Thread Starter)
The car is shooing the p03something and p1519 cam shaft sensor code....and has really bad acceleration through the lower rps 1-3 but the colder it gets outside the less the hesitation is there....does this sound like the censor the vanos seal or the vanos as a whole.
Currently Active Users Viewing This Thread: 1

(0 members and 1 guests)
Similar Threads
Thread
Thread Starter
Forum
Replies
Last Post
airbag sensor came on and oil sensor comes on and goes off

gspeed

5-Series (E12,E28, E34, E39, E60)

3

09-23-2009

01:24 PM

Hesitiation.mass Airflow Sensor Or Cam Pos Sensor?

scopefrfd

5-Series (E12,E28, E34, E39, E60)

7

04-24-2005

11:47 AM

New Vid

CiscoKid

Video Vault

11

02-26-2005

05:44 PM

Upgraded Sensor To Reduce Motion Sensor

rsn48

5-Series (E12,E28, E34, E39, E60)

4

10-06-2004

02:44 PM

e30 vid

bry08

3-Series (E21, E30)

1

01-24-2004

01:00 AM
Posting Rules

You may not post new threads

You may not post replies

You may not post attachments

You may not edit your posts

---

HTML code is Off

---