hey guys well my cigar lighter went out i checked it out its fuse number 32 so i took it out saw that iwas blown, and didnt put it back in. Then the next time that i got back in my car i saw that my clock and temp gauge was off, i checked ito ut and saw that this fuse is right next to my cigar lighter! so is that why it went to kind of like christmas lights? or what? Also now my rear window defrost A/C and recylced air lights are always on, (this too started happening after i took out fues #32, cigar lighter) so do i just need to go buy new fuses, they are like 25 cents at napa right? haha and do i go buy the amperes it says on the top of the fuse box under the right fuse number i think the one for the cigar lighter is 30 amprese sound right?

Thanks for the help!

David
---
**
BAKER POW REPORT
**
You Can Has A Custom Title!!
Well i am useless,

but I really hate how BMW's electronics are all interrelated so that when one thing goes out, almost everythign else does. I have so many electrical problems but i am sure it is one thing that has messed it all up.
---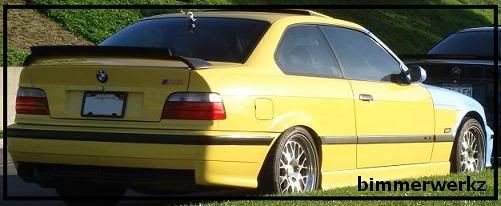 1995 BMW M3 Turbo - Dakar/Black
Threadkiller
Join Date: Jan 2004
Location: High Point, NC
Posts: 2,907
Mentioned: 0 Post(s)
Tagged: 0 Thread(s)
Quoted: 0 Post(s)
yes, just replace the fuse with the same amperage rating. Double check, the ratings on the fuses you replace. It's better to have a lower amperage fuse than needed if youíre in doubt, otherwise, you could very easily start a fire.
---
Currently Active Users Viewing This Thread: 1

(0 members and 1 guests)
Posting Rules

You may not post new threads

You may not post replies

You may not post attachments

You may not edit your posts

---

HTML code is Off

---