n00b
Join Date: Jan 2005
Posts: 29
Mentioned: 0 Post(s)
Tagged: 0 Thread(s)
Quoted: 0 Post(s)
(Thread Starter)
Body questions.
---
Okay so i've got a few questions and what better place to ask than here.
So i've got some body flaws on my 318i so i was trying to think of a cheap but effective way of fixing it. So what i was wonder is if i were to fix most the flaws with bondo and and i was planning on laying graphics over the car anyway but the main question is if i were lay graphics over the damanged/bondoed areas how would it look also how well would it hold up.?
I am Teh Edumacator.
Bondo holds up pretty well, but what kind of graphics do you want to put on, and why???
---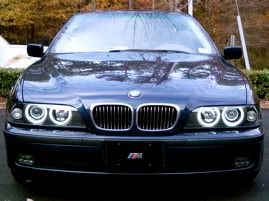 1999 E39 540i/6-VF Stage 1 S/C, Dinan exhaust, Dinan strut+shock braces, Dinan ltwt flywheel + clutch, Dinan Brembo BBK, Dinan monoball, H&R Springs, Koni Yellows, M5 sways, Dinan forged 18" wheels, &c.
1995 E38 740i. Highly modded. Faster than you.
Sold 2-28-07: 1997 E36 M3/4, 8-30-05 RIP 1997 528i
Lindsay fan club member.
2nd Gear Member
oh my GRAPHICS?... hmmm please no. I thought graphics were for civics and hyundais. Sorry just teasing.

Bondo works well depending on your environment. No very flexible in very cold temps. The vinyl will not effect the bondo.

DAS IS A GERMAN KAR! KRAPHICS R FER DHEM TUNERS.... YA?
---
"If everything seems under control, you're just not going fast enough."
- Mario Andretti
1979 320is RiP
1994 318is Sold
1995 325is Sold
1995 530i Sold
2004 M3
n00b
Join Date: Feb 2006
Posts: 30
Mentioned: 0 Post(s)
Tagged: 0 Thread(s)
Quoted: 0 Post(s)
Currently Active Users Viewing This Thread: 1

(0 members and 1 guests)
Posting Rules

You may not post new threads

You may not post replies

You may not post attachments

You may not edit your posts

---

HTML code is Off

---