n00b
Join Date: Aug 2005
Posts: 1
Mentioned: 0 Post(s)
Tagged: 0 Thread(s)
Quoted: 0 Post(s)
(Thread Starter)
Hi experts,

I am planning to get a E36 soon, and saw a 325i with OBD I (95) M3 engine swap listed for sale. Before jumping in before knowing, is there anything else that diffs M3 from 325i besides the following?

OBD I S50 vs OBD I M50 engine
stiffer bilstein suspension
M steering wheel, e-brake handle, shift knob, seats
M bumper, spoiler, side skirt

For example, will the use of 325i tranny/clutch will cause any impact on the S50 motor? If other components like fuel pump are different? Also, is the chassis being stiffen for the M3? Bigger sway bar, etc?

And would such M3/325i 'hybrid' has any issue on passing smog check since the car is California registered? Do you experts see any potential issue down the road with such setup?

Please advise... thanks in advance!
You Can Has A Custom Title!!
Ask the seller what else was doen to accomodate the swap. Im sur eit works well and he has actually swapped in a new clutcha nd flywheels and what is actually needed. That wa sprobably just a simple descriptiont hat doesnt outline the exact modifications that he has done.
---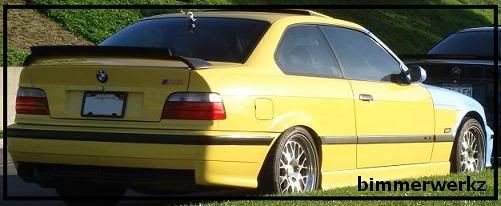 1995 BMW M3 Turbo - Dakar/Black
ex owner/admin
---
Currently Active Users Viewing This Thread: 1

(0 members and 1 guests)
Posting Rules

You may not post new threads

You may not post replies

You may not post attachments

You may not edit your posts

---

HTML code is Off

---