n00b
Join Date: Mar 2006
Posts: 7
Mentioned: 0 Post(s)
Tagged: 0 Thread(s)
Quoted: 0 Post(s)
(Thread Starter)
ABS Sensor - Can I Clean, or must replace? Where to Buy?
---
ABS Sensor - Can I clean sensor, or only replaced? Where to Buy?

My ABS & Traction Control lights are on. Prev owner said dealer told him one of the front sensors needs replacing, and the light will away. ....But he forgot which side was the bad one....

Can I take the sensors off and try cleaning them?
If so, what should I clean them with (brake cleaner) ?

If I need to buy them... what's the best website?
You Can Has A Custom Title!!
It's ac ommon thing. I think you jsut need to replace them. I'm ordering some for mien soon too. Ive found a pair new from a buddy for $150. Just havent bought them yet. Let me know if you find any prices out there.
---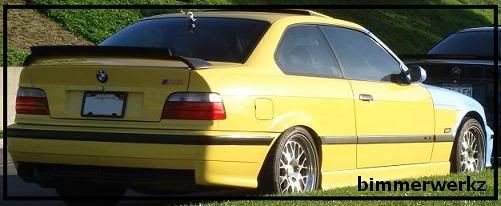 1995 BMW M3 Turbo - Dakar/Black
5th Gear Member
Try to clean the sensors, it's rare but occasionally the sensor will get so much build up that it won't function properly, brake clean will be fine...also check the sensor wheel make sure all the teeth are there and not chipped. Other than that you may just have to replace the faulty one...go to the dealer to get the part number, with all the different DSC/ASC systems it can be difficult to find the right sensor unless you know EXACTLY what you have
Currently Active Users Viewing This Thread: 1

(0 members and 1 guests)
Posting Rules

You may not post new threads

You may not post replies

You may not post attachments

You may not edit your posts

---

HTML code is Off

---