n00b
Join Date: Aug 2008
Location: Vancouver
Posts: 2
Mentioned: 0 Post(s)
Tagged: 0 Thread(s)
Quoted: 0 Post(s)
(Thread Starter)
My 84 Twin turbo 325E
---
Hi all,
Im new here.
Twin KO3 sports, S4 intercooler, 32 pound injectors, Porsche 944 mass air meter, custom plumbing, all oil and coolant AN fitting,, split second piggy back unit for fuel control Aeromotive billet adjustable fual pressure regulator .3 inch stainless exhaust. Could use a clutch soon and has some rust on the rear quarters. Factory locker differential. BBS rm 15 x 8.5 with near new rubber. 6 psi boost at the moment as i daily drive it but could handle 10 psi without issue, not sure if stock clutch can take it. I call it the junkyard dog as i had built it out of parts laying around the shop, good parts though.lol
how much power do you think the twin turbos are making? Did u do any chip upgrades?
does it rev higher? just some questions i want to throw out there. very impressed at what uve done. wondering about my own 85' 325E power upgrade
n00b
Join Date: Aug 2008
Location: Vancouver
Posts: 2
Mentioned: 0 Post(s)
Tagged: 0 Thread(s)
Quoted: 0 Post(s)
(Thread Starter)
We have put a split second piggy bsck for fuel, rpms are the same they just get there a lot more quicky. Im guessing 225 BHP at 7 psi.
2nd Gear Member
That's a lot of work and effort. Do you have more pics of the engine?
---
How do I spell relief?!?!?!
NO MORE DAMN SNOW!!!!!!
ya thats pretty good. hmmm id like to see more pics of engine bay too. setup looks nice.
this is what kind of power boost this car needs. any tranny or differential upgrades?
5th Gear Member
Join Date: May 2008
Location: Germany
Posts: 1,940
Mentioned: 0 Post(s)
Tagged: 0 Thread(s)
Quoted: 0 Post(s)
wow, the supereta!
Do you know the exact name of the rims? And I'd love to see moah pictures of this sweet eta.

btw anyone knew that the e in 325e stands for eta, which is again a greek letter used to show grade of efficiency in Physics?
At least the internet tells me so...
---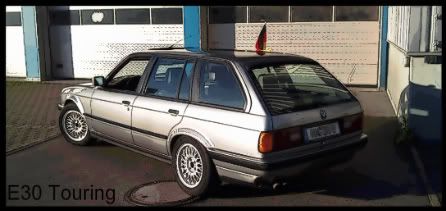 Currently Active Users Viewing This Thread: 1

(0 members and 1 guests)
Posting Rules

You may not post new threads

You may not post replies

You may not post attachments

You may not edit your posts

---

HTML code is Off

---