n00b
Join Date: Sep 2010
Posts: 2
Mentioned: 0 Post(s)
Tagged: 0 Thread(s)
Quoted: 0 Post(s)
(Thread Starter)
'79 e21
---
Hey all, Im new to the whole BMW scene, as well as this site.
A family friend had this e21 that was just taking up space in his driveway, so he offered to trade it for two chords of wood.
So I ended up with this: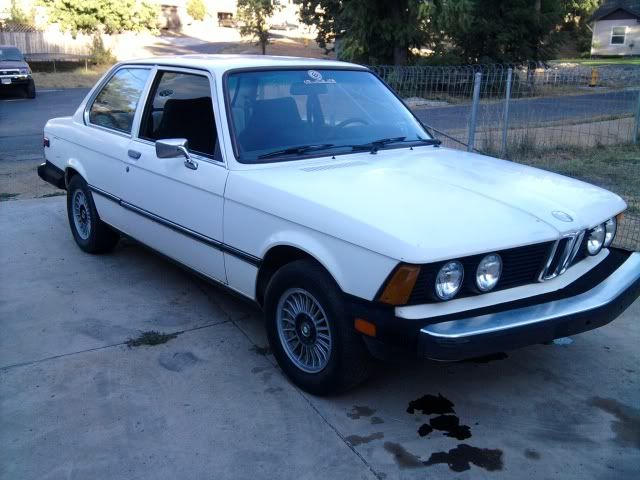 and now im wondering what I should do with it.
I already have a daily driver, and I would like to fix this up, but Im kinda clueless on where to start.
Any advice?
Mods: You can move this or delete it or whatever, Im a noob here, so I hope I did this right.
OMFG another one!?
Join Date: Aug 2004
Location: Miami FL
Posts: 14,724
Mentioned: 1 Post(s)
Tagged: 0 Thread(s)
Quoted: 1 Post(s)
Very nice E21, I hope you will make sure it is well kept!
---
BMW
Sig by zeaq

n00b
Join Date: Sep 2010
Posts: 2
Mentioned: 0 Post(s)
Tagged: 0 Thread(s)
Quoted: 0 Post(s)
(Thread Starter)
Haha, Im gonna try my best.
Im trying to redo the interior atm, but im stuck on the carpet.
I was thinking about buying one of the kits, but it would be cheaper to just get the carpet and do it on my own, and I have the time to do it, but I kinda want your guys' opinons.
Is the kit worth the extra money?
What would you guys do?
Currently Active Users Viewing This Thread: 1

(0 members and 1 guests)
Posting Rules

You may not post new threads

You may not post replies

You may not post attachments

You may not edit your posts

---

HTML code is Off

---