n00b
Join Date: Oct 2003
Posts: 11
Mentioned: 0 Post(s)
Tagged: 0 Thread(s)
Quoted: 0 Post(s)
(Thread Starter)
Does anyone know what could cause my 318i M10 E30 to judder between 1500-2000rpm in every gear? It doesn't happen during acceleration or deceleration but when holding the revs in this range. Thanks in advance.
1st Gear Member
Join Date: Oct 2003
Location: Kansas City, MO USA
Posts: 200
Mentioned: 0 Post(s)
Tagged: 0 Thread(s)
Quoted: 0 Post(s)
To check the ignition wires open the hood after dark and look for crossover sparks.
The spark plugs should be changed and gapped to .35 to provide better performance.
If all is good above I would get a volt meter and see if it is the fuel system failing to provide by checking the o2 sensor.
o2 sensor readings.
You can check it on your diagnostic plug though.
Use a VOM on pin 15.
.6 volts is dang rich .3 volts is dang lean.
http://www.kemparts.com/TechTalk/tt07.asp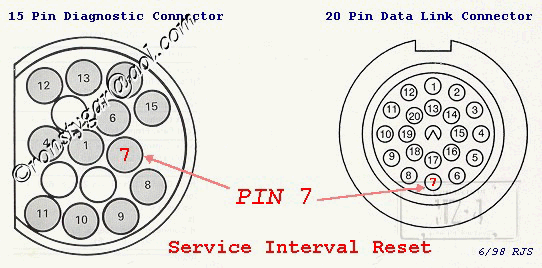 http://www.unofficialbmw.com/images/reset1.gif
1. Ground
4. Temperature sensor
7. Reset
8. TDC sensor yellow
9. TDC sensor shield
10.TDC sensor black
11.Start signal
12.Alternator charging excitation voltage
13.Ignition coil
14.Alternator charging supply current
15.Oxygen sensor output to test with.
Later,
---
<img src="
To view links or images in signatures your post count must be 10 or greater. You currently have 0 posts.

Currently Active Users Viewing This Thread: 1

(0 members and 1 guests)
Similar Threads
Thread
Thread Starter
Forum
Replies
Last Post
E39 528i - Judder Over 70mph

jmitch

5-Series (E12,E28, E34, E39, E60)

4

03-22-2005

02:40 AM

Clutch Judder

nec

5-Series (E12,E28, E34, E39, E60)

0

10-26-2004

03:01 PM

Brake judder

Rich328

3-Series (E36)

6

09-20-2004

12:10 PM

E39 523 (1999) - Judder at idle

kermit

5-Series (E12,E28, E34, E39, E60)

1

09-01-2004

09:58 PM

high pitch whine at 1500rpm

Cronk325i

3-Series (E46, E90)

0

08-02-2004

04:47 PM
Posting Rules

You may not post new threads

You may not post replies

You may not post attachments

You may not edit your posts

---

HTML code is Off

---