n00b
Join Date: May 2009
Posts: 7
Mentioned: 0 Post(s)
Tagged: 0 Thread(s)
Quoted: 0 Post(s)
(Thread Starter)
Minor 740iL light issues can anyone HELP?!
---
i installed aftermarket rear tail lights, clear corners with silver bulbs(generic i believe), and redone top/bottom lenses. I get an error check corner light. My fog lights are not working properly either after i replace the lense. I custom painted the inside and removed the center plate for the foglights. I plugged it, turn it on but nothing turn on. Light bulbs was working before i did the mod/update. Im thinking it has to be the ground. I took a voltage tester and it had current coming out the plug but it wont light up the bulb =(
can anyone verify its a ground issue?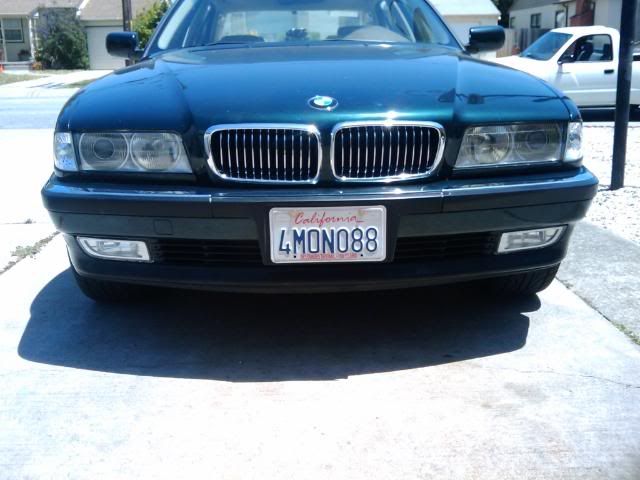 OMFG another one!?
Join Date: Aug 2004
Location: Miami FL
Posts: 14,724
Mentioned: 1 Post(s)
Tagged: 0 Thread(s)
Quoted: 1 Post(s)
The ground is what I'd start with.
---
BMW
Sig by zeaq

Im Bluffin With My Muffin
Join Date: Nov 2006
Location: Palo Alto, CA
Posts: 5,992
Mentioned: 0 Post(s)
Tagged: 0 Thread(s)
Quoted: 0 Post(s)
swap you stock bulbs into the courners and see if the message goes away....
Check the ground wire From the Plug to the bulb housing and the bulb to the housing these MUST be PAINTLESS!
---
1991 Ford Taurs SHO 5 Speed White on Tan
1996 Chevy Lumina LTZ Rep 3.4L
1992 318i Coupe parts car
1992 325i Ls1 swap with a T56 6 speed 12.2 quarter mile
1976 Mercedes Benz 300D with a Ford 5.0L Fuel Injected soon to be Modded
I am Captain Obvious
Best Car Insurance | Auto Protection Today | FREE Trade-In Quote
Currently Active Users Viewing This Thread: 1

(0 members and 1 guests)
Similar Threads
Thread
Thread Starter
Forum
Replies
Last Post
On brake light issues...

Spook

3-Series (E36)

4

07-04-2012

02:13 AM

740il e32 window issues

bjk1159

1,6,7,8 - Series and Mini Cooper

4

03-25-2008

04:58 PM

new 520i with minor idle issues

Morgenster

5-Series (E12,E28, E34, E39, E60)

5

05-06-2006

08:16 AM

Brake Light Issues (318ti)

BimmerBoy75

3-Series (E36)

6

01-18-2005

02:52 AM

Bmwtechs Just Bought A 2000 740il, Has Some Issues

playdrv4me

1,6,7,8 - Series and Mini Cooper

2

11-25-2004

01:27 AM
Posting Rules

You may not post new threads

You may not post replies

You may not post attachments

You may not edit your posts

---

HTML code is Off

---