n00b
Join Date: Jan 2008
Posts: 5
Mentioned: 0 Post(s)
Tagged: 0 Thread(s)
Quoted: 0 Post(s)
(Thread Starter)
760Li rear seats in a 745Li...?
---
First post!! yay!!lol. Sup feller beammer$.. I just purchased a 745Li and i want the rear options on the 760Li< heated cooled massage rear seats.. I called Bmw and the the service guy said now because of the wiring.. Now thats not an issue to me as i am a customizer wiring is a simple cut n twist.. What I really need to know is can the seat fit. are they a perfect fit?
.. From what i know they are based on the same chassie.. Has any one else attempted to do this with success.. If so lemme kno wut im in for, cant really afford a 760 til maybe 2009-2010.. til then i need those options.. Thanks Guys..
I am Teh Edumacator.
Well, it's the same chassis, so sounds like if you have custom wiring experience you should be fine. Might be a good idea to look over the diagrams for the two cars on realoem.com to make sure you don't have to run piping from the A/C system or anything.
---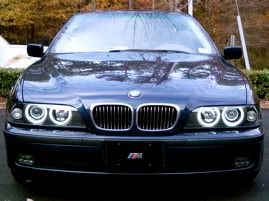 1999 E39 540i/6-VF Stage 1 S/C, Dinan exhaust, Dinan strut+shock braces, Dinan ltwt flywheel + clutch, Dinan Brembo BBK, Dinan monoball, H&R Springs, Koni Yellows, M5 sways, Dinan forged 18" wheels, &c.
1995 E38 740i. Highly modded. Faster than you.
Sold 2-28-07: 1997 E36 M3/4, 8-30-05 RIP 1997 528i
Lindsay fan club member.
Moderator
Join Date: Apr 2004
Posts: 1,052
Mentioned: 0 Post(s)
Tagged: 0 Thread(s)
Quoted: 0 Post(s)
Make sure they ar both very close in production date so that the airbag system is the same. The seats have occupancy recognition mats in them for the airbag and if they not the same generation then you will have airbag lamp on etc. Also you will need to have the airbag lamp reset after doing the swap, even if they are the correct seats.
---
DT
n00b
Join Date: Jan 2008
Posts: 5
Mentioned: 0 Post(s)
Tagged: 0 Thread(s)
Quoted: 0 Post(s)
(Thread Starter)
Thanks fellas..
I appreciate the input.. now to just find the parts lol... i was gonna try to get at least the 04' 760LI since its the same year.. if its a go i think i may grab as much 760 parts as i can without breaking my pocket..
I dont think I'll ever go back to acura legend 2dr coupes again.lol Although i own 6..
Currently Active Users Viewing This Thread: 1

(0 members and 1 guests)
Posting Rules

You may not post new threads

You may not post replies

You may not post attachments

You may not edit your posts

---

HTML code is Off

---